The PFA are supporting an initiative designed to help clubs bring together and engage with their former players.
It follows the huge success of a weekly social gathering of former Nottingham Forest legends which has come to be known as 'The Thursday Club'.
The idea for the 'Thursday Club' came from the filmmaker Jonny Owen, a Director at Nottingham Forest, who initially bought together former players from the club's European Cup winning campaigns for his documentary 'I Believe in Miracles'.
On the origins of the 'Thursday Club', Jonny said: "After we'd bought the players together for the film, they carried on meeting up and I realised how important it was for them.
"It was wonderful to see them interact. They've got so much to talk about and it's just turned into an 'every week' occasion. We've got a regular venue and a time and there's always someone here. They all really enjoy it."
"Everybody's relationship with football is the same. I grew up watching Merthyr Town and my favourite player was Kevin Rogers. I couldn't have felt more passionately about him if he'd been playing for Real Madrid! All fans feel the same – it's a great equaliser.
One former player who is a regular at 'The Thursday Club' is Garry Birtles. An England international, alongside Nottingham Forest he also played for Manchester United, Notts County and Grimsby.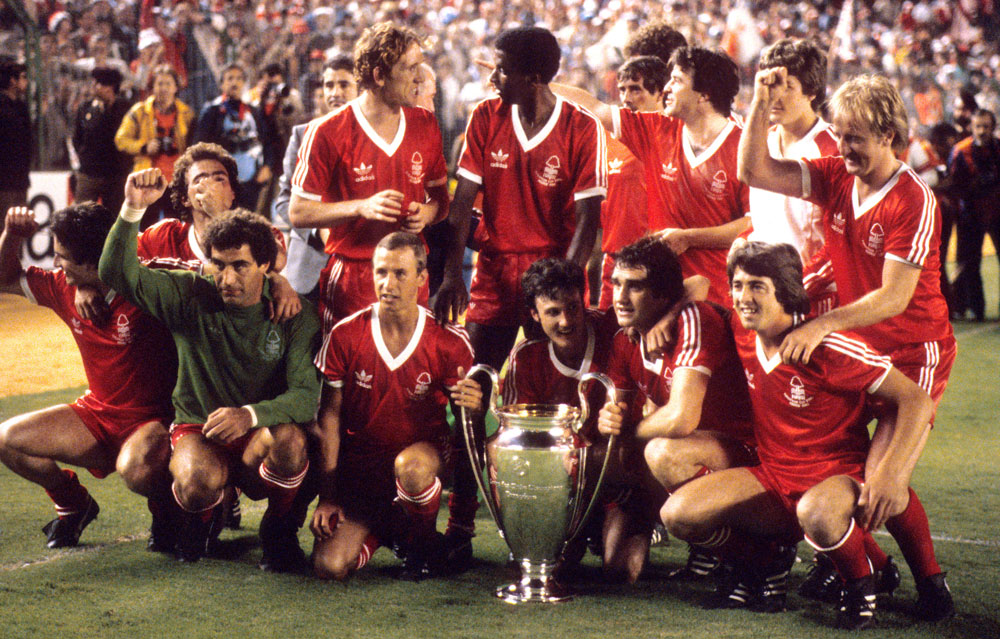 May 1980, Nottingham Forest celebrate with the European Cup.
(Back Row Left-Right) Martin O'Neill, Ian Bowyer, Viv Anderson, John O'Hare, John Robertson, Gary Mills and Kenny Burns. (Front Row Left-Right) David Needham , Peter Shilton, John McGovern, Garry Birtles, Larry Lloyd and Bryn Gunn.
Garry said that the Thursday Club had been "absolutely brilliant" for him.
"So many players still live in Nottingham or on the outskirts. We decided to meet up and it's just been superb to spend a relaxed afternoon with your friends, the former players. It's just continued from there.
"It's a privilege to still be able to keep in touch with the lads who we played with. I went through a really bad stage a few years ago when my wife was diagnosed with pancreatic cancer, and she sadly passed away after a massive battle. Coming here was just superb for me. It's always a great turnout and it really gives you a massive lift to come and see your friends and chew the fat with such wonderful people.
Garry and Jonny now hope that other clubs will want to replicate the success of the Thursday Club.

Garry said: "I'm sure there are ex-players around the country who would love to do what we do. I think sometimes you get forgotten a little bit when you've retired and packed it in. It's so good for people just from a mental health perspective – I wouldn't miss it for the world."

Jonny hopes that the simplicity of the idea, and the lack of resource needed by clubs, will encourage more to look at setting up similar initiatives.

He said: "Footballers have bought us so much joy and this is such a simple way to give something back to them – just offering them a place to come together.

"It's like the famous film, there's only one rule for Thursday Club and that's that there are no rules! It's just a relaxed place for ex-players to turn up and to socialise.

"Seeing the impact of it, I just thought what a great idea it would be to roll it out to other clubs.

"All you need is a venue and a time, and then former players can turn up and have a good time."

The PFA are working with Jonny to help him introduce the idea of the Thursday Club to other clubs, and to develop former player networks as a way of keeping former PFA members engaged and informed about the services and support the union provides.

FIND OUT MORE
If you would like to find out more about how your club might be able to take this idea forward, please contact media@thepfa.com.