Scholarship Insights
Moving from academy football into a scholarship, then on to a professional contract can be an overwhelming experience for young players. The entire journey requires careful management to ensure players are protected, and that they're ready for all possible outcomes, including being released from a contract.
To help players prepare, we have designed the PFA Introduction course (Psychology, Performance and Wellbeing) – an online education platform to give young players a thorough insight into the challenges of full-time professional football.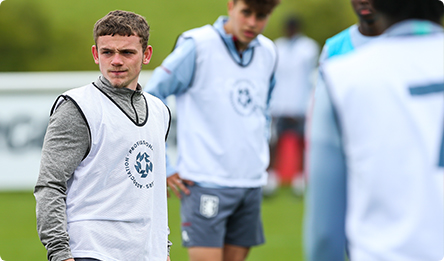 Modules
There are 8 easy-to-follow modules and a post-course questionnaire, designed to teach young players about key concepts. This will help them acclimatise to their new role without feeling out of their depth.
Throughout each module, players will gain valuable knowledge to help them prepare for the rollercoaster world of professional football. The modules also introduce players to the unique culture of playing football at elite level. Most importantly, the course teaches transferable skills that will help young players to build fulfilling careers outside football, and help them plan for their future. These modules cover:
FAQ'S
Do I have to take this course?
This course isn't compulsory, but it has lots of useful information to help you as you start your professional career. It's easy to follow and nothing like schoolwork so it won't cause you any additional stress. Get your club-specific link from your Player Care team so you can check out a couple of modules and see what you think.
Is there a resource available for parents?
These modules have useful information for both players and parents, and can be a good way to spark conversations about any concerns you have. If you need advice about something in particular, you can contact our Youth Advisory team for free confidential advice at any time.