Course Overview
The Level 3 UEFA B Licence carries on from the Level 2 UEFA C Licence qualification. It looks at the practical side of functional practices, with a strong focus on small-sided 8v8 games and phases of play. The classroom elements of this course are significantly more complex than UEFA C, and explore key coaching elements such as sports psychology, training and fitness.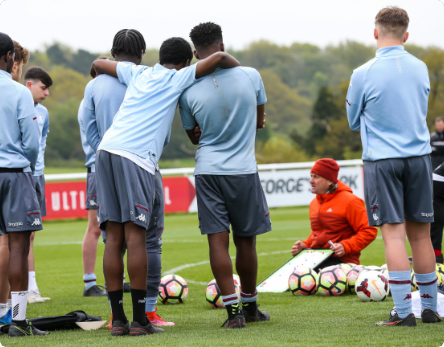 Course Logistics
Duration
This course consists of six days practical coaching, five days face-to-face or online classroom delivery, followed by at least three supported sessions, during which one of our team will observe you delivering a coaching session. You'll also have to deliver a presentation about your own coaching philosophy.
The classroom sessions on this course are delivered through a mixture of blended learning and in-situ sessions, which take place around three months after practical sessions are completed. As always, if further support is needed, our team will discuss any additional sessions with you and offer tailored support to ensure you qualify.
Most candidates complete the UEFA B course within 12–18 months.
---
Requirements
To begin working towards your UEFA B Licence, you must have a desire and commitment to coaching.
---
Outcome
FA Level 3 (UEFA B) in Coaching Football
The UEFA B Licence is the minimum requirement for working with players in academies and centres of excellence. Completion of this course also prepares you for the UEFA A Licence if you're seeking a coaching role with senior professionals. If you have aspirations of top-flight or international team management, you'll then need to work towards your UEFA Pro Licence.
---
Fees
The FA Level 3 UEFA B in Coaching Football course currently costs £360.
The cost of this course is already heavily subsidised for current and former professional footballers. If you are currently unemployed or need further financial support, you may be eligible to set up a payment plan or receive financial assistance from the PFA Charity.
---
Course Content
The UEFA B course explores several core concepts to give you a comprehensive knowledge of coaching. These include:
observation and diagnosis of performance
technical and tactical details about possession
Online Applications
Online Applications
For more information about the PFA's coaching services, please contact the Coaching department.
FAQ'S
Is this the right course for me?
The UEFA B Licence is suitable for all male and female professional footballers, past and present. If you intend to coach in the professional game, this is the first step in your coaching journey. It will allow you to access the necessary experience working with academy players before pursuing your UEFA A Licence.
When should I start thinking about taking a coaching course?
We encourage all players to think about their future careers, so it's never too early to take a course if you have a passion for coaching! We deliver courses around the country and throughout the year, and you are welcome to apply for the next available date that suits you.