Supporting Players Together
To truly change the relationship between football and mental health, every stakeholder in the game needs to be on the same page. This includes:
players
agents
managers
coaches
owners
club staff
governing bodies
All these groups can start better support players by thinking about mental health from a workplace perspective. In 2017, the PFA established the annual Injured conference, for players and club staff to come together and learn how to make changes to improve players' wellbeing.
Every year, the Injured conference focuses on a different aspect of mental health to help create a more open culture within football. This creates an environment where players have the space and support to learn how to see their value as people, not just players.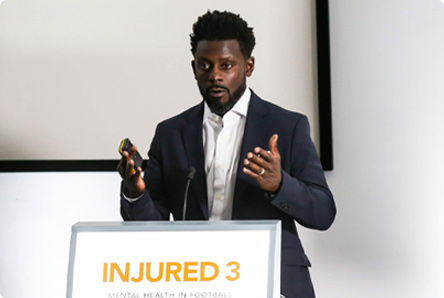 Can former players attend Injured?
Improving the relationship between playing football and mental health is everyone's responsibility, so we welcome the attendance of any member of the football community. Former players will have valuable insights that others can learn from, so please sign up for the next Injured conference.
How do I get my club to attend the event?
Most clubs understand how important it is to protect players' mental health and wellbeing, and will already be aware of Injured. Speak to your player care or safeguarding officer if you would like to attend together as a club, or get in touch with our team for more information. Contact: wellbeing@thepfa.com.