Aston Villa stars Maz Pacheco and Ebony Salmon joined young people from across Birmingham for the PFA's latest See It. Achieve It. event. Launched last year, the initiative elevates the voices of diverse role models from across the women's game and inspiring the next generation of female football talent.
Hosted at Aston Villa's inner-city Youth Academy, within touching distance of Villa Park, coaches from the club and the PFA joined Pacheco and Salmon in guiding training sessions for over 70 young girls from the Birmingham area. The sessions were followed by a sit-down Q&A with the players on their journeys through football and experiences playing professional football in the WSL.
After the session, the girls were also gifted two tickets each to the Villans' upcoming WSL tie against Everton at Villa Park.
This is the second See It. Achieve It. workshop hosted by the PFA and a WSL club since the programme launched last year; the inaugural event took place at Manchester City with See It. Achieve It. mentors Bunny Shaw and Demi Stokes in attendance.
The programme helps to address the visible lack of diverse role models from ethnically diverse backgrounds across the professional women's game, connecting players with young people via dedicated workshop events and mentoring networks. During the 2021/22 season, the PFA estimated that just 10% of players in the top tier of women's football were from Black, Asian or mixed heritage backgrounds, with representation far higher in the men's professional game.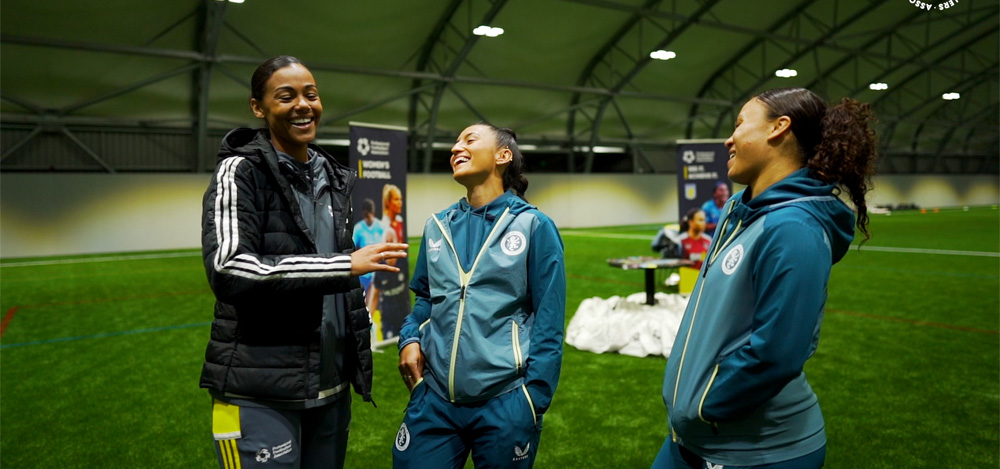 Fern Whelan, former Lioness and PFA Women's Football EDI Executive, has spearheaded the campaign and believes encouraging young players into the game at youth level is key for boosting representation at the top level.
"There's certainly a diversity issue that needs to be addressed across the women's game. Girls need to see themselves reflected in those playing the game at the highest level.
"See It. Achieve It. is all about celebrating the diverse role models that we do have in the WSL and showing the next generation that pathways do exist to playing professional football, irrespective of their background."
PFA CEO, Maheta Molango added, "It's great to see the See It. Achieve It. campaign continue to go from strength to strength, and we're grateful for the commitment of the players, staff and clubs involved in hosting these memorable events.
"Diversity rightly continues to be a primary focus for those involved in progressing the women's game forward, and we're proud that the PFA can play a part in creating space for members to connect and inspire future talent."