Darlington defender, Paddy Almond, remains under observation at a specialist hospital in London after suffering a bleed on the brain during Saturday's game against Southend United.
The 20-year-old, who recently joined Darlington from Sunderland's academy, had a second brain scan on Sunday morning and was expected to undergo surgery. However, doctors have decided to postpone a decision on whether to proceed with the surgery as Almond's condition appears to be stabilising.
In a statement, Darlington said, "Happily, his condition hasn't deteriorated, and appears to be stabilising. He is sat up in his bed, eating food and chatting with his family. Paddy and his family are very grateful for all the messages of goodwill from throughout the world of football, and as a club we have been most touched by all the support for him. The football world has truly come together, rivalries have been set aside."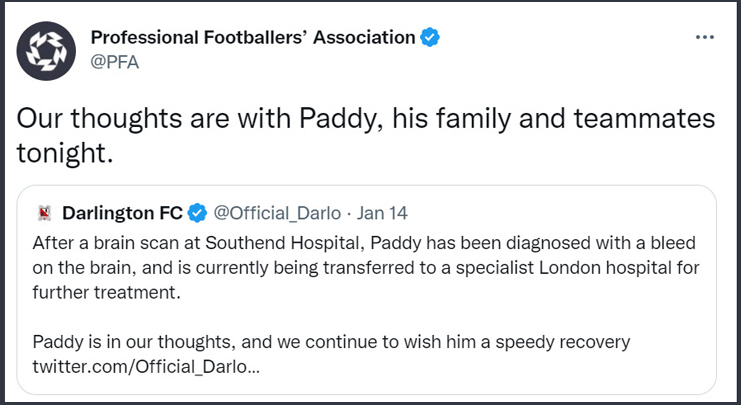 Almond, who plays as a center-back, only returned to action in November after being involved in a car accident in June, which left him with head injuries. He was treated on the pitch and in the dressing room for concussion before being taken to Southend General Hospital and later moved to London.
Southend United, Darlington's opponents in the game, sent their best wishes to Almond and wished him a speedy recovery. The statement on their Twitter account read, "Everyone at Southend United sends their best to Paddy and wishes him a speedy recovery."
The football community has come together to show their support for Almond and his family during this difficult time. The club and the player's family have expressed their gratitude for the outpouring of goodwill from rival teams, players and fans.