Twenty years ago today, former West Bromwich Albion striker, Jeff Astle, died aged 59 after being diagnosed with Alzheimer's Disease just four years earlier. Scoring 137 goals in 292 appearances for the club, Jeff spent most of his playing career with the Baggies and scored in the final to help them win the 1966 Football League Cup.
Two years later, after goals in every round of the 1968 competition, Jeff lifted the FA Cup trophy as the only scorer in the final at Wembley. After becoming the leading Divison One scorer in the 1969-1970 season, Jeff was called up to Sir Alf Ramsey's 1970 World Cup squad, where he won the fourth of his five England caps in a group game against eventual winners, Brazil.
Jeff retired from football in 1977 and ran a window cleaning business before passing away in 2002. After his death, Jeff's family made the difficult decision to donate his brain for research. Twelve years later, in 2014, consultant neuropathologist, Dr Willie Stewart, examined Jeff's brain and found Chronic Traumatic Encephalopathy (CTE), a fatal brain disease associated with repeated head traumas that can also cause the development of dementia.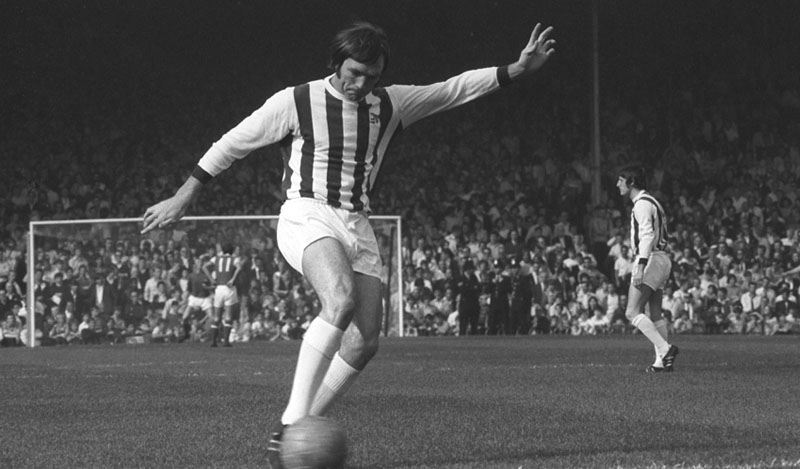 Shortly after this landmark diagnosis, Jeff's family set up The Jeff Astle Foundation to raise awareness of brain injury and offer much-needed support to those affected.
Led by Jeff's daughter, Dawn Astle, the foundation has long campaigned for independent research into the links between playing sport and degenerative brain disease. The charity also supports sportspeople living with the effects of dementia or chronic neurological impairment and their families. As part of her commitment to securing better support for former players living with a neurodegenerative disease, Dawn took part in a November 2020 PFA consultation process to share feedback on the union's work and service provision in this area.
Dawn's valuable contributions led to an advisory role with the PFA, and in January 2021, she began formally working with the players' union alongside Rachel Walden, daughter of former player Rod Taylor who died with dementia in 2018.
Maheta Molango, PFA Chief Executive, said: "On the anniversary of Jeff Astle's passing, our thoughts today are with his family. The Astle's have campaigned tirelessly for 20 years for football to recognise the long-term and increased risk of neurodegenerative disease in former footballers.
"We are grateful to Jeff's daughter Dawn, who over the last 12-months has shared her experiences working with families through the Jeff Astle Foundation and has been vital in helping the PFA start to shape their new approach in this area.
"To honour Jeff's legacy, all of football must unite so we can work together to protect current players and give former players living with a neurodegenerative disease the immediate and continued support they need."