Charlie Edinburgh wants to create an army of lifesavers and honour the memory of his dad Justin, a Spurs FA Cup winner who died of a cardiac arrest in 2019, aged just 49.
Why did you set up the Justin Edinburgh 3 Foundation?
When my family got the devastating news that the experts in hospital couldn't do any more for my dad, I just never wanted him to be forgotten. He was such a positive man. I'm very fortunate and very proud to be his son. We had to turn such a tragic and negative thing into something positive, which is what dad was all about. For me and the family it was important that we had a focus in the early stages as well. I would much sooner have my dad here, but we're doing something to benefit people and potentially save lives. It's something I know my dad would be proud of.
How did you feel about the way the game reacted to your dad's death?
It sort of exploded. I don't want to put my dad on a pedestal, and I don't know whether it was the success he'd just had with Leyton Orient or how well respected he was, but the footballing world came together. To go to Leyton Orient's stadium and see Tottenham and Arsenal scarves together… to see my dad bringing football together was something I didn't know he was capable of. I was a bit hard on dad sometimes and didn't really appreciate what he had achieved in the game.
You're now campaigning for Justin's Law to get defibrillators into all gyms?
The fact that it's not a legal requirement for defibrillators to be within health and sports facilities in the UK is quite shocking. People go to gyms to better their physical and mental health. They want to improve themselves, are sometimes quite unfit and they push their bodies to the limit. It's like a seatbelt – you may never need it, but if something bad happened it could save your life. So, we want to change the law to make defibrillators a requirement.
You've also raised £250,000 for CPR training…
We want to have a massive impact by creating a new generation of lifesavers through education and training in CPR and how to use these defibrillators. It's all well and good having the equipment but you need to have the confidence to use it. We will be rolling out JE3 Foundation workshops that will give people the confidence and competence to act in an emergency situation.
And all of this goes way beyond the football world?
Yes. We have a powerful following in football but we need to raise awareness and engage people outside of the game to get involved. CPR is a skill that could potentially make you somebody's hero. It sounds a bit cheesy but the reality is you could save somebody's life. You can be not just that person's hero, but save the pain and the grief that myself, my family and friends went through.
What else are you working on?
Everything we are doing with this Foundation, we're keeping my dad at the forefront. We're giving back by donating defibrillators – especially where people can't afford these pieces of equipment, because they're not cheap. On the first anniversary of dad's death on 8 June, we donated three. One went to Billericay Town, the first club dad managed – they didn't have one on site. It's not just for the club, it's for the community. But we don't intend on becoming a defibrillator shop. Instead, we will give away three defibrillators per quarter. In the majority of cases, beneficiaries will be organisations that service the community and might not be able to afford them, such as a grassroots football team or a youth centre. Organisations will be able to apply via our new website, launching soon.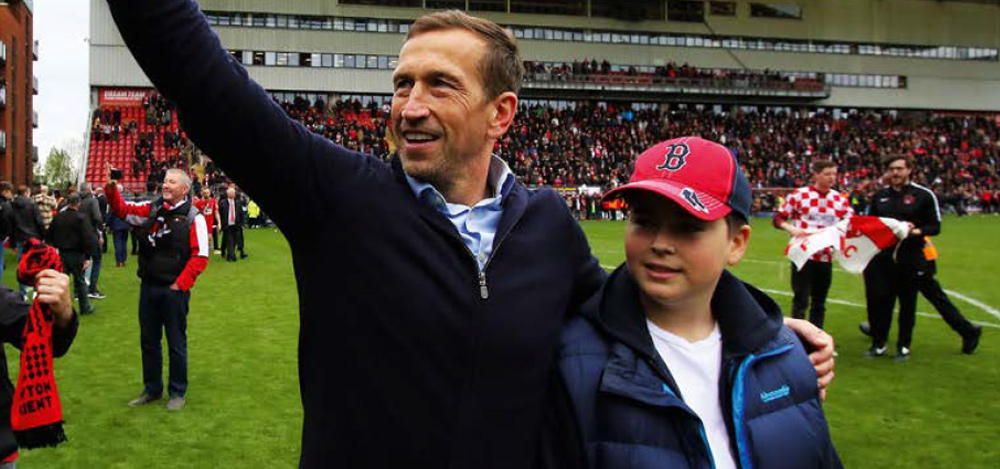 What did you learn from your dad that has helped you with the Foundation?
He was a massive fan of preparation - if you don't prepare, you're always going to fail. I want this to be around for many years. The fact that people continue to support us during these challenging times reassures us that we will be able to do this for years to come.
How has Covid impacted your work?
It has been a hurdle for us at a very stage, but me and my trustees have utilised this time really well. We've put a lot of planning in place so that once we do get the green light and things are starting to lift we can get out and start doing a bit more of the great work we want to do.
You recently achieved charitable status – why is that important?
People don't understand what goes into that. That's one moment, I'm not afraid to say, I shed a tear because I know how much hard work we put in just to get to that stage. It lifts restrictions and allows us to do certain events and to propel to the next level. It also reassures people that we're serious and their money is going to a charitable cause.
And you had allies to get that status? Yeah, I want to say a huge thank you to the PFA for their continued support to myself, my family and the Foundation since we formed. We wouldn't be where we are now without their support and guidance. Dave Palmer, Paul Allen, everybody at the PFA has been so good to us.
How can people reading this get involved and help?
There will be plenty of ways to get involved on our website. You can help just by buying a pin badge and wearing that with pride to spread awareness. Or there are plenty of opportunities to fundraise. I know there are generous players at all clubs and all levels of football who give up their spare time to do great things for so many fantastic causes. I encourage anyone – if my dad touched their life and our story resonates with them – please reach out to me. We're very open minded with how people can get involved. Attend one of our CPR courses. Learn skills and hopefully you never need to use it, but having that nous means you will know what to do.
Support the foundation and get involved on Twitter and Instagram.