After bursting onto the scene with Sunderland in 2015, winning honours with the England U21s and establishing himself as one of the Premier League's best young players, Duncan Watmore's career was derailed by injury. He tore his ACL in 2016, ruptured the same knee during his comeback, and suffered a series of subsequent injuries. Now resurrecting his career with Middlesbrough, the winger is an example to any player searching for light at the end of the tunnel when persistent injury strikes…
After all your injury problems, it must be great to be playing football again and performing well?
Absolutely. I'm really happy with how I've performed so far since joining Boro. Now it's all about consistency and helping the team string together some good results. We've got such a good team here with the coaching staff Neil Warnock has put together, I feel the club is in a really good place.
Signing for Boro seems to have given you a new lease of life. You burst on the scene at Sunderland five years ago, but you spent so much time on the treatment table people could be forgiven for forgetting about you…
I wouldn't disagree. With my injuries and then being without a club since leaving Sunderland, there wasn't a lot happening in my career – but that's the nature of football sometimes. I kept believing in myself and working hard, making sure I remained focussed so that, when clubs did come in for me, I had done all the groundwork in terms of fitness so I could hit the ground running.
Was it difficult to move on after spending so long at Sunderland?
I think it's important to say that when I left Sunderland early last year, there was absolutely no bitterness on my part. The club was absolutely fantastic to me the whole time I was there and, despite those two relegations, I loved my time there with so many great people at that club. It was the right decision for both parties that I moved on but we parted company on really good terms and I'd love to see Sunderland doing well again. But that's all in the past and I'm looking forward to a future with Boro.
You suffered your first cruciate ligament injury in December 2016 and then it went again just a few games into your comeback. Was that the lowest point?
Yes, that was pretty hard to take. I'd been out for nine months, fought my way back to fitness and then did the cruciate again in my sixth game back against Millwall. It took me more than a year to play again, only to pick up a few more injuries – my ankle, then I tore my thigh and that was the time I started to doubt whether I would ever get my body back into place. There were days when I wondered if I would ever be able to play football at a decent level again. But I kept telling myself that in football quite often there are a lot of ups and downs so you just have to stay as steady as you can – although that can be easier said than done.
Do you feel like the same player today as you did before all those injuries or have they taken their toll?
I believe that I can be as good as ever, I really do. Of course, it can be harder when you've had so many injuries and you have to look after your body more and manage the knee. But it almost goes without saying that I have to be careful after so many serious operations over a short period of time. I certainly appreciate how fragile the human body can be. But the more games I play, the more robust I'm feeling. I can honestly say that I feel really good right now, which makes me optimistic about what lies ahead. Crucially, I never lost my pace, which is a key part of my game. I'm running as quickly as I ever have and the sharpness is coming back too.
You were part of the England U21 team that won the 2016 Toulon Tournament alongside players who are now regulars in Gareth Southgate's squad. Does it make you think 'what if'?
I've such happy memories of those days. It was a great squad. We had Jordan Pickford in goal, Ben Chilwell, James Ward-Prowse, Tammy Abraham, Jack Grealish, Ruben Loftus-Cheek, Calum Chambers – lots and lots of players who are doing really well these days. Sometimes I'm asked if I'm bitter or reflect on what might have been, but to be perfectly honest I'm not like that. I'm genuinely happy for all the guys who have kicked on. That squad wasn't just full of talent, it was a great dressing room too. Rather than think about what ifs, I prefer to look at what I've got and I'm playing in the Championship for a great club in Middlesbrough.
You seem in a very good place right now?
I am. I feel lucky that I'm over my injuries and playing again when there were times when I wondered if I would ever kick a ball at a decent level again. But I'm still here and enjoying it. I've got no complaints. In fact, it's the exact opposite. I'm so grateful to Middlesbrough for taking a chance on me. I'd love to pay the club back by helping us win promotion and I could be playing in the Premier League again. But I prefer to concentrate on the here and now and just make the most of every day.
Finally, we can't end without you giving your thoughts on Neil Warnock…
He's quite a character. Interesting, funny and incredibly switched on. You won't be surprised to hear that, with all his experience, he is hugely knowledgeable on the game. Every day you're learning something new from him.
Higher learning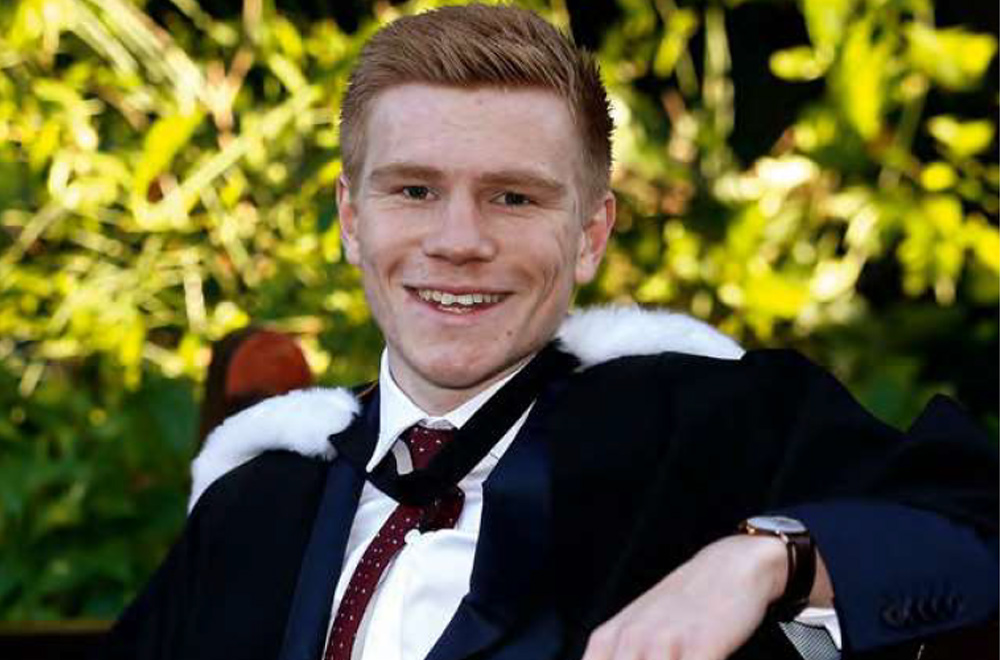 A player who has always balanced education alongside his football career, Watmore Graduated from Newcastle university with a first class honours degree in Economics and Business Management in 2016 and has just completed his Masters in International Business Leadership and Management at the University of York, earning a distinction.
How does it feel to have completed your Masters?
I've just graduated after two and a half years and I really enjoyed the course. There were times when it was hard work, but as a footballer I suppose I'm quite lucky in that we get a lot of spare time compared to most jobs. I always want to do something useful in that time and studying helps me switch off from football. It makes you realise outside that bubble there's an awful lot out there. That has always been a philosophy of mine. Football is not my identity. It's something I enjoy and always try my best at, but there is so much more to life. I enjoy learning and experiencing different aspects of life, which are my main motivations in doing these courses. Without wanting to preach, it's always good to have another string to your bow and my studies did help a lot when I wasn't playing.
A lot of students of all ages and abilities have found remote learning quite tough. What are your experiences of it?
I'm quite lucky really because even before the Covid pandemic remote learning was the method I chose – as a footballer I couldn't physically attend lectures or tutorials on campus. So back in March last year, when life changed so much for so many people, in terms of studying nothing really changed for me.
And timing wise, when football went into lockdown and I got furloughed from Sunderland, that was the time I had to do my dissertation so that was, in one sense, perfect because it kept me busy and gave me a purpose.
Do you have a system for managing your learning alongside your football commitments?
I will always try to do my work in the afternoon, so say if I get back from training about 3ish, I'll spend a few hours studying before dinner. Then I try to switch off in the evenings and just relax. Before Covid, I'd try to mix up where I did my studying. Sometimes I'd just stay in my flat but quite often I would go to a café or a library just to keep the workspace interesting. And, of course, as a footballer you spend so much time travelling so there are opportunities in coaches, planes and hotels.
We talk to more and more players completing degrees, things have changed a lot in terms of recognising the importance of education, and yet footballers still seem to have this unfair reputation for not being particularly bright…
I couldn't agree more. From what I've witnessed it's not true at all that footballers are only interested in computer games and music. There are so many intelligent guys I have come across within the game and I've had lots of fascinating conversations with many of them. Without going into specifics, I know lots of lads who are constantly reading or never miss a news programme. There are lots of different ways to learn and lots of things to learn and let's not forget that the modern-day footballer has to take in a lot of analytical stuff in his day job. We shouldn't dismiss football intelligence either. That is something I have always had to work on, but there are plenty of players for whom it comes naturally because they have a real football brain.