Chelsea's Cesar Azpilicueta and Millie Bright have been named as PFA Community Champions for 2019/20.
The PFA Community Champion Award aims to raise awareness of the great support that PFA members provide to their Club's community activities during the season.
Chelsea Women's defender and vice-captain Bright was nominated for the award for her support in a number of one-off events throughout the 2019/20 season, including a Q&A session with players on the the club's female development programme. Upon receiving the award Bright said: " It's an absolute honour to win this award.
'It's been great to see the work the Foundation do in our community, especially in the area of girls and women's football.
'I always enjoy being a part of Foundation events, they make a real difference to people's lives and I hope that I too have made a difference during the events I've been a part of."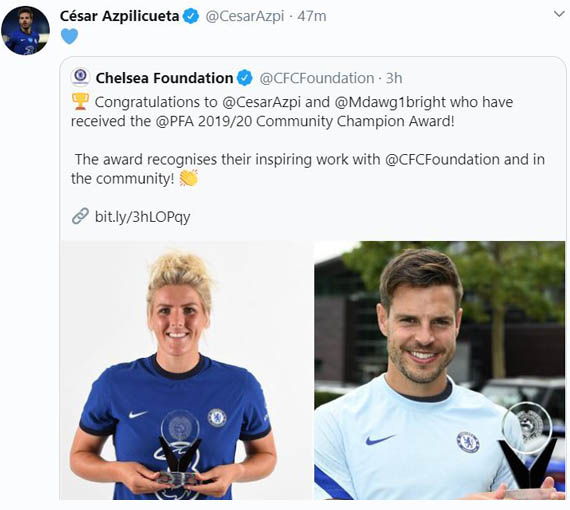 Chelsea FC Men's Cesar Azpilicueta was nominated for the award for his ongoing commitment to the club's charitable causes throughout the season, most notably his appearances at the club's monthly Community Days and his incredible support to the community during the Covid-19 pandemic.
In response to winning the award, Azpilicueta said: 'I'm really happy to have won the PFA Community Champion award.
'It's important for me to try and inspire people - not just on the pitch but off the pitch too.
'The Chelsea Foundation make a big difference in the lives of so many and so I always enjoy attending Foundation-led events and being a part of making a difference in our community.'