The PFA applauds the players' support of the Black Lives Matter movement. This is a powerful statement at a potentially transformative time in football and society. Following their support of NHS Charities Together during the COVID-19 pandemic, our members have once again demonstrated their desire to use their platform for the benefit of society.
While we now have a significant number of black players represented across the leagues, the current climate highlights the lack of BAME representation in areas of the game beyond the pitch.
Today, via its social channels, PFA has joined the social media initiative #pullupforchange. In doing so, the players' union encourages the leagues, clubs, governing bodies, sports broadcasters, community foundations, sports charities, brands and sponsors to publicly share the level of diversity within their organisations. This transparency could be a significant step toward tackling systemic racism within football.
The PFA has released its own diversity statistics in relation to black representation within the union: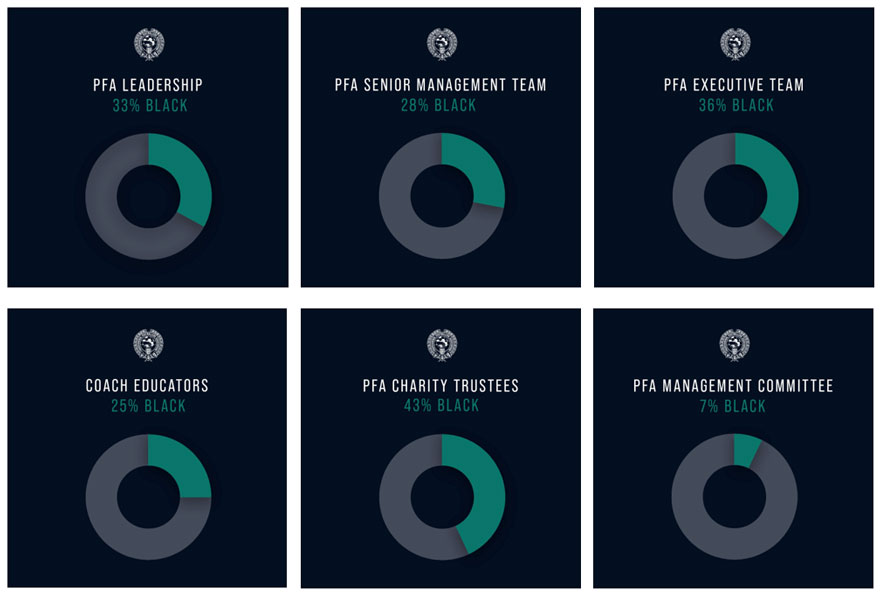 In addition to calling for greater transparency about levels of diversity within football organisations, it is also vital that the game shares comprehensive data regarding the ethnicity of players, coaches and managers.
We are calling on the game's stakeholders to commit to recording the ethnicity of all players when registering a professional contract, as well as coaches undertaking qualifications, including the UEFA Pro Licence, UEFA A Licence and UEFA B Licence. A process must be put in place to ensure that data is shared with stakeholders so the game can be held accountable.
PFA Head of Equalities, Simone Pound, says:
"We want all football organisations to demonstrate a clear commitment to ensuring the representation of black players extends beyond the pitch, into coaching, management and at board level. The football industry can only move forward collectively when we have shared data about how things currently stand. Being transparent allows the industry to be held accountable and is a starting place for meaningful change."
Previous work the PFA have initiated in this area includes:
Establishing and funding Kick It Out and Show Racism The Red Card.
Set-up the Black Coaches Steering Committee in 2003.
Delivering E&D workshops for players at clubs across the leagues.
Introduction and lobbying for a version of The Rooney Rule within English football.
Ensuring the introduction of the Voluntary Recruitment Code pilot across the EFL.
Jointly funding the BAME Coaching Placement Program, together with The FA. This programme ensures BAME coaching positions at all levels with the England teams.
Sponsoring the On The Board programme, to help address diversity at board level.