Colin Yates is an artist and teacher who has spent the last twenty years creating poignant pieces of work that focus on football.
Colin's work has always carried an anti-discrimination message and his exhibitions have championed footballers of colour, female players and Justin Fashanu, who remains the only openly gay footballer to have played in the UK.
This year, three of Colin's portraits have been shortlisted for the prestigious John Ruskin prize. Here Colin tells us a bit more about the prize, the portraits and the passion behind his work.
Colin, what made you start creating work around discrimination in football?
I've been creating artwork around football since the mid-nineties after realising it was what I felt most passionate about. I already knew I loved creating portraits so I started with nostalgic figures like Stanley Mathews and Tom Finney, but after an Asian teammate of mine was beaten up while playing for my local pub team, I thought, 'here is a subject that needs to be addressed'. I started creating art focusing on race, and unfortunately racism shows no signs of going away so I've been doing it ever since.
How have the PFA supported your projects?
I initially had an idea of creating 11 portraits to form a team of Black and Asian footballers and I honestly don't think I would have been able to continue with that project, or the others since, without the support of the PFA. I know they undertake a lot of good work in the community, so I contacted Brendan Batson who supported me with some funding and enabled me to get the Black Looks project going. The support of Brendan, Gordon Taylor, Simone Pound, Bobby Barnes and Jon Hudson has been incredible, and it's been a great and longstanding relationship.
How did you get involved with the John Ruskin prize?
The John Ruskin Prize celebrates artists across many disciplines, championing the idea that art has the power to expose universal truths. I was so pleased that out of 3000 submissions, three of my portraits were shortlisted. Art can sometimes be elitist and when I first started making football art, I used to receive plenty of negative comments because the subject was regarded as a low genre. Having my portraits of Raheem Sterling who has become such a powerful voice in football, Eni Aluko who is such a fantastic role model for women of all ages and Justin Fashanu who remains the only football player to come out as gay, in the running to win such a prize shows how everybody has moved forward.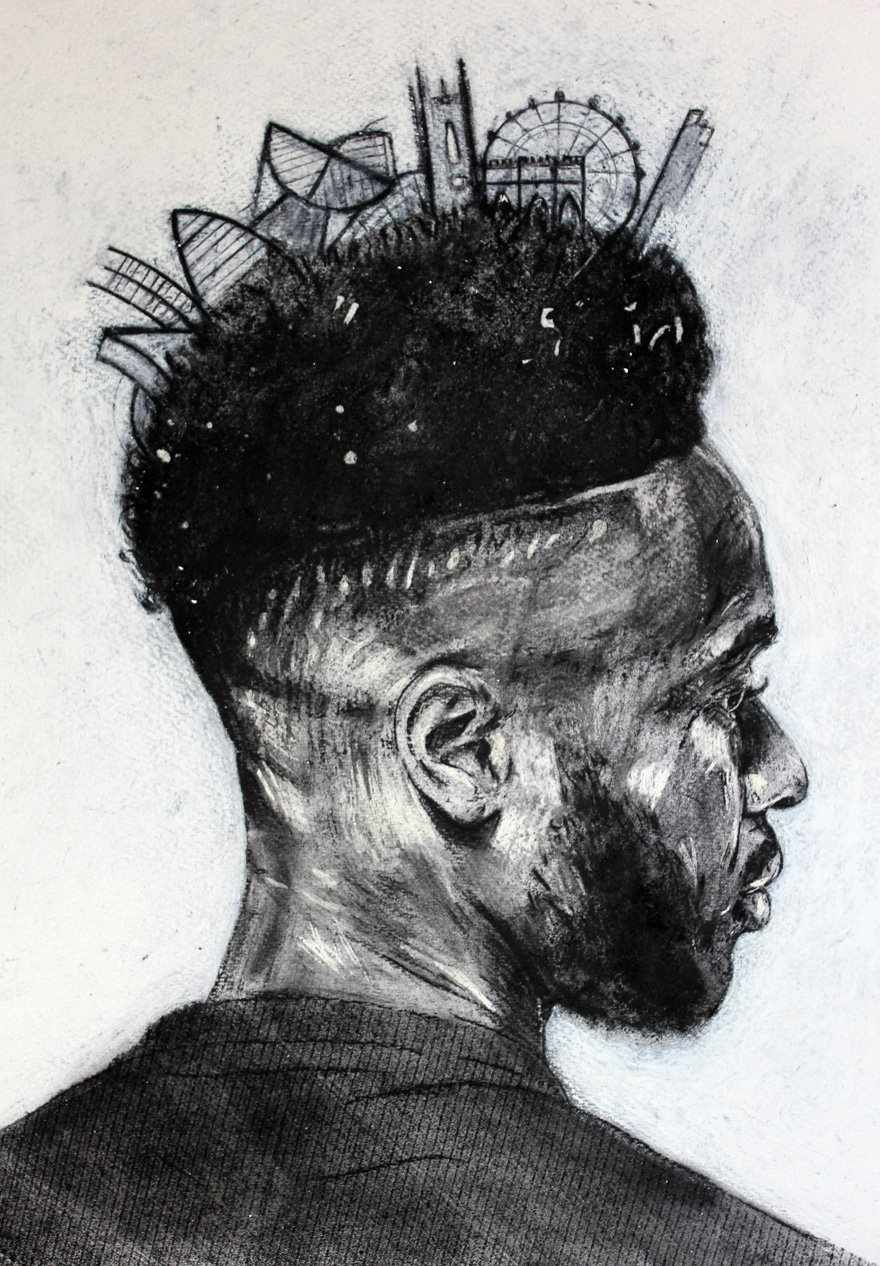 Why is it important to make art about these issues?
I think it's important because you have to make a stand. There have been times when I've taken a break from this subject matter and worked on other schemes of work, but I always come back to this work because discrimination sadly still exists. I always incorporate educational workshops into my projects too, taking my art into schools where the students really appreciate the work. A lot of prejudice comes via transference from older generations so my artwork along with 'hidden-histories' presents a positive alternative. I find showing my work and giving them the backstory behind each portrait gets them thinking and challenging ideas – 'Education through Art and Sport'.
What message would you like people to take from your work?
I would like them to see a quality bit of work first, an accomplished portrait and then I'd like them to delve into the backstories. With my artwork you need to investigate it a bit more than some others, and I think when you have that kind of depth it means the work has more longevity. I'm always trying to make art with substance, 'art with a message' and I want my work to have a lasting impact on people. Hopefully, they'll reflect on what they see in front of them and further think about the messages I'm trying to convey and maybe even make some art themselves.
You can see Colin's entries for the John Ruskin Prize alongside 40 other artists, designers and makers, who will have their selected works exhibited at The Holden Gallery, Manchester from 12 July - 24 August 2019.