The Manchester United first team paid a special festive visit to young patients at three local hospitals today to deliver some early Christmas gifts.
Following the women's team visit yesterday, the players visited Royal Manchester Children's Hospital, Francis House Children's Hospice and The Christie, and were delighted to help raise spirits during the Christmas period.
Harry Maguire joined his teammates for the hospital visits for the first time since joining Manchester United in August this year. Alongside Luke Shaw, Mason Greenwood, Phil Jones and James Garner, he attended The Christie's Palatine Treatment Centre, which is home to the teenage and young adult unit and haematology and transplant inpatient unit, where they surprised patients who are going through a difficult time this festive period.
Harry said: "This is my first year at Manchester United but it's a classy club and they always make sure they look after the community and local hospitals at this time of year. It's a nice gesture, to surprise everyone, bring gifts and put smiles on faces - that's what it is all about."
Juan Mata and Lee Grant spent time with children at Francis House in Didsbury, whilst the remainder of the first-team squad headed to the Royal Manchester Children's Hospital, the largest single-site children's hospital in the UK which provides specialist healthcare services for children and young people throughout the North West.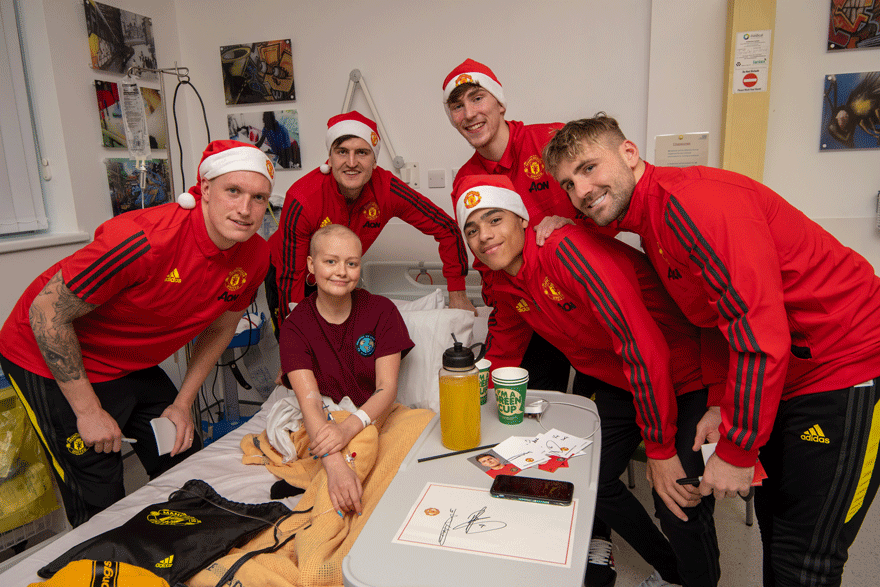 Speaking at the Royal Manchester Children's Hospital Scott McTominay said: "It's such a humbling experience coming here and seeing the kids with smiles on their faces. It's one of the most important things that we do as players and staff, especially round Christmas time; these are the things we love doing the most and it's amazing to give back to charities and the hospital."
Enjoying his time at Francis House, Juan Mata said: "I think it is important to give back any time, but now it's Christmas and obviously it's a very important time for a lot of us and our families, so we are grateful to be able to help kids that are not able to have as happy of a Christmas that we normally have."
At each site the players gave out a number of United-themed presents including signed shirts, hats and scarves, to the delight of the young patients facing a tough Christmas period.
Joe, 19, a patient at the Christie and huge United fan, was thrilled to meet the players: "It was really good fun; they brought some really good gifts and presents and to be honest it's certainly made my month. Having treatment isn't the most exciting thing in the world so this sort of treat has been a real bonus – especially after our win at the weekend!"
The annual hospital visits are managed by Manchester United Foundation. Find out more at mufoundation.org.