The PFA and Pompey in the Community (PITC) hosted an Iftar (breaking of the 'Fast' during Ramadan) event at the PFA/ULF supported PITC study centre on the 5th of June 2018.
The event was attended by over 120 guests from a cross-section of the community including Muslims, Christians, Jews and Sikhs.
The month of Ramadan is a period of fasting, sacrifice, giving, piousness and self-training with the hope that these qualities will extend beyond this month and stay with individuals throughout the year. Ramadan started on the 17th May and lasts for a duration of 29 or 30 days and involves Muslims abstaining from food and drink from sunrise to sunset.
Faz Ahmed, a Trustee of PITC and co-owner of The Akash restaurant who did all the catering for the event said: 'We are the first club to do something like this with the PFA which is a huge honour. Portsmouth is an incredibly diverse city and the more we can do to not only support that community, but bring people together, is really important. Without the support of the PFA the Iftar event would not have been possible and I'm pleased we were able to hold such an event in Portsmouth.'
Director of Pompey in the Community Clare Martin said: 'The PFA's Riz Rehman came to us a few months back and asked if we would be interested in doing such an event and it was an idea that we couldn't say no to. It's great to give a bit more understanding with things like this and you have got to respect those who take part in Ramadan because it is an amazing sacrifice for their religion.'
During the evening, £900 was raised for the PITC on the back of the Mo Salah shirt (courtesy of the PFA) encouraging people to make donations with one lucky winner being picked out of a hat.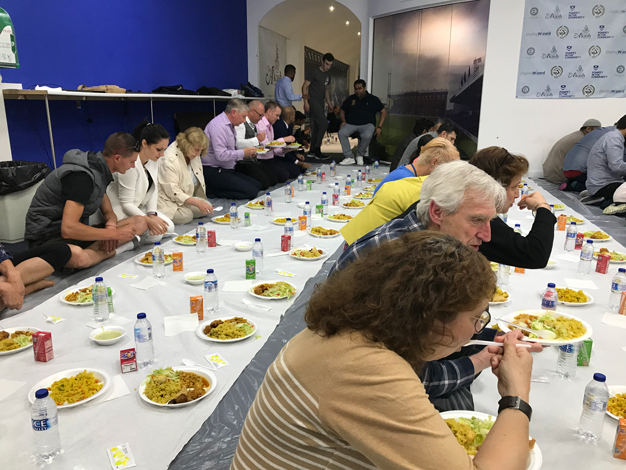 The PFA's Riz Rehman, who was the brain-child behind the event said: "It was great to have over 120 people here to share in the Iftar, raise awareness around Ramadan, as well as give everyone the opportunity to learn more about the great work that the PITC deliver. For most people it would've been their first time to the club and I'm positive that after tonight they will want to come back and get involved. I have had enquiries from clubs across the country who have also shown an interest to host an Iftar event, and after the success of tonight I'm confident we will be able to facilitate more next year at various clubs."
Leader of Portsmouth City Council, Cllr Gerald Vernon-Jackson said: 'Events like this are really important because we need to do all we can to build relationships between the different communities in the city. It makes this club become everyone's club, which is great.'