This week the PFA has highlighted that more members are seeking help for mental health problems as awareness of the issue grows.
Since 2012 the PFA has provided a dedicated service to help with its members' wellbeing and the numbers taking advantage of that are on the rise.
"The PFA put a player welfare department in place in 2012 because we felt a lot of onus was being placed on the physical aspect of playing football and not enough emphasis on player's emotional wellbeing, and I think the two go hand in hand," said Michael Bennett, PFA Head of Welfare.
"Last year we had 160 members undertake counselling, of which 62 were current players and 98 were former players, and that is growing year-on-year.
"We want to make members aware of the services in place, with the hope that the more we can raise awareness, the more people will use the service.
"I think it is in a sportpersons mindset that to talk about being affected by mental health can be perceived as a weakness.
"We are trying to change that mindset because if you were to twist an ankle or pull a hamstring – because you can physically see it – you can treat it, but because mental illness is something you can't see, it is not viewed the same way.
"So for people like Clarke Carlisle, Rio Ferdinand – even Prince Harry – to talk about their own experience helps break down that taboo and helps others become more comfortable in being able to open up."
The PFA has put in place a system which offers a variety of help and advice options, ranging from a 24-hour phoneline to accessing face-to-face support.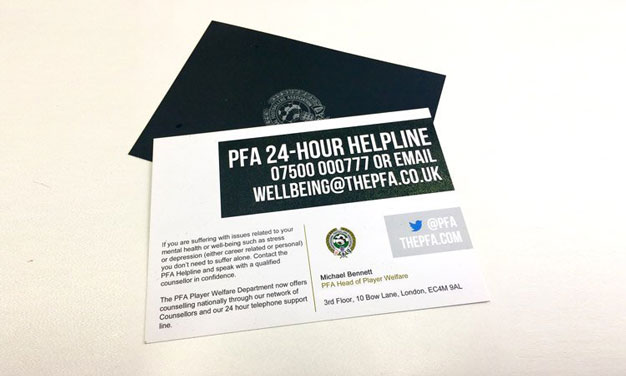 "We decided we needed to put in place a network of national counsellors around the country: we started with 28 counsellors in 2012 and now we have 100-plus," added Bennett.
"Stress, anxiety, depression are a symptom of something and we try to work out what the root issue is and then place them with the nearest counsellor to where they live, and they just get on with it in a private and confidential setting.
"We are also aware some players or members don't want to speak to someone face-to-face so we set up a 24-hour telephone helpline where they can speak to a qualified counsellor at any time.
"In severe cases, we have psychiatrists that can assess a player and show us the best routes to offer them support.
"We are trying to educate members to be aware of mental health and also give it a wider context within professional football, so hopefully players will have a better understanding should they encounter any issues and know where to get support.
PFA 24/7/365 HELPLINE:
All services are completely private and confidential, PFA members (or concerned friends and family) can contact:

Tel: 07500 000 777
Email: wellbeing@thepfa.co.uk