Chelsea midfielder N'Golo Kante has been crowned PFA Players' Player of the Year at the 2017 PFA Awards in London on Sunday evening.
Just two years ago few fans in England had even heard of N'Golo Kante. Fast forward to 2017 and the French midfielder is on the Premier League's most venerated players, and since being instrumental in Leicester's stunning title win last season, he has gone on to play a pivotal role in Chelsea's rise to the summit this season.
He saw off competition from Chelsea team-mate Eden Hazard - who won the award in 2015 - plus Tottenham's Harry Kane, Everton striker Romelu Lukaku, Zlatan Ibrahimovic of Manchester United and Arsenal's Alexis Sanchez.
Kante has played a key role in Chelsea's surge to the top of the league this season and is renowned as a tireless box-to-box competitor who helps break up opposition attacks and initiate them for his own side.
He is set to become the first player to achieve the distinction of winning successive Premier League titles with different clubs if Chelsea can hold off Tottenham in this season's championship race.
Blues manager Antonio Conte joked after another commanding display by Kante in a win over West Ham last month that he is struggling to find a fault in his game.
"He made five mistakes. He has to improve in this. He has to improve," Conte said.
"I am joking. But I have to find one situation to tell him to improve. He's playing really well.
"He has great stamina, great quality and we are working to improve that quality. I'm pleased for him."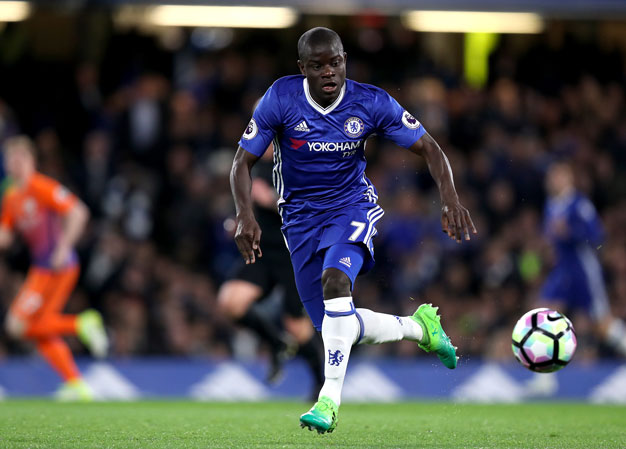 Kante's humility and commitment to the team cause never cease to impress, and he downplayed the line that many feel seems to sum up his incredible contribution – 70% of the Earth's surface is covered by water and the rest by N'Golo Kante – by remarking: "It's just my football friends".