The Professional Footballers' Association (PFA) has outlined details of reforms to contracts in the women's game, but has warned that there remains much to be done to achieve parity between female players and their male counterparts.
Following 16 months of negotiations with The Football Association (The FA), the PFA achieved three significant policy changes relating to maternity provision, injury and illness and the termination of contracts due to long term injury. The changes will apply to players in the Women's Super League (WSL) and the Women's Championship.
However, the players' union has warned that a 'piecemeal' adoption of new changes would risk creating an arbitrary 'two-tier' status amongst female players.
A key area of the talks was the introduction of a comprehensive Family Leave Policy, which provides players with additional protection if they have children during their careers.
Other landmark changes agreed related to conditions around injury, illness and the termination period in the Standard WSL Contract.
PFA's Director of Women's Football, Marie-Christine Bouchier, who led the negotiations with The FA, pointed to the contractual rights for male and female players who suffer long-term injury as being emblematic of the wider disparity in conditions:
She said: "Take two England internationals who play for the same club - one in the Premier League, one in the WSL.
"If both those players suffer the same serious injury on the same day, under the existing WSL contract, a player can be dismissed by their club if a medic thinks the injury will prevent them from playing for three consecutive months. In that instance, the player only has the right to a three-month notice of termination.
"However, for the Premier League player, the injury would need to keep them out for eighteen months in any consecutive twenty-month period before their contract could be terminated. In that situation, they would have the right to a twelve-month notice of termination.
"Those are wildly different conditions for players who could suffer from the same injury playing for the same club. It clearly wasn't right."
Although notice periods on injury and illness have now been addressed, Bouchier says that there is still work to be done in other areas, for example, on contractual 'options':
"It is common in professional football for contracts to include an 'option' on a player, allowing a club to extend the deal if they want to retain the player for a longer period.
"However, the current notification period outlined in the Standard WSL Contract could leave some players in limbo when their deal ends. Players can find themselves in a situation where their contract has expired, but the club can wait a further week to decide whether they activate the option or release the player. In the men's game, in the same situation, players get advance notice from their club, which then allows them to make plans for their future.
"We are confident this will be remedied imminently, but again, it's just a basic issue of fairness."
Talks between the players' union and The FA remain ongoing, and as a priority, the PFA want to ensure that the new policies are adopted by all clubs and players retrospectively.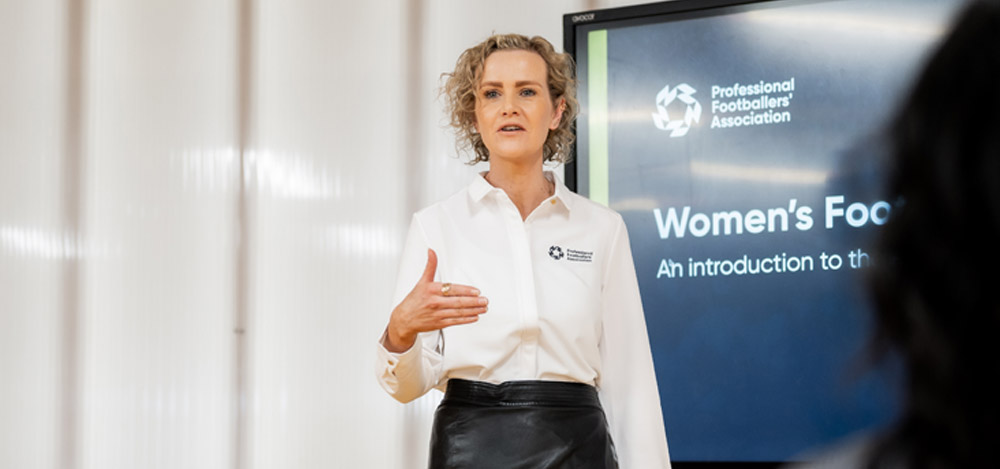 Marie Christine-Bouchier, Director of Women's Football
Bouchier explains: "It is vital that the new changes are adopted by all, as opposed to being implemented on a piecemeal basis, as each player enters into a new contract.
"We can't have a situation where players are expected to continue working under what is now agreed as a deficient employment contract. It's not an acceptable option to create a two-tier employment system in terms of current players based simply on when they happened to sign their last contract."
The creation of a Women's Professional Football Negotiating and Consultative Committee (WPFNCC) is another area high on the union's agenda. The equivalent forum in men's football includes representatives from the Premier League, English Football League (EFL), The FA and the PFA, and oversees key areas of the professional game.
Bouchier states: "Within the men's game, the PFNCC has been integral to the development of professional football, providing football's stakeholders with a forum to debate, agree and implement changes across the game collaboratively."
"The lack of a football funded pension provision for female players is a good example of both the complexity of our ongoing discussions, but also highlights how a forum such as the WPNFCC would be beneficial to progress overall.
"Male professional players each receive a pension contribution of £6,180 a season. This benefit is funded by a levy on transfer fees from the Premier League and EFL clubs. Clearly, an equivalent process will not be sufficient in the WSL and Championship, so we need to find an alternative solution. This is something that will require a concerted, game-wide approach."
"Importantly, a WPFNCC would also mean that no changes to players' conditions can be made without the PFA's agreement. This has been integral to the protection of male players' rights, particularly around issues such as the attempted introduction of salary caps and squad size limits. PFA members from the women's game deserve the same protections."
Finally, PFA Chief Executive Maheta Molango has confirmed it is the union's objective to see players in the Championship being eligible for PFA membership.
Currently, there are complexities around how The FA classifies both the league and the participating clubs that need to be addressed. These issues impact the contractual rights, working conditions and protections of those playing in the Championship, and these will form a significant part of ongoing discussions with The FA.
Molango said: "The PFA has undergone rapid transformation in the last 12-months, and we are applying that same momentum of change to the women's game. What we have achieved through these discussions represents significant milestones, but there is still much work ahead of us.
"The PFA has a dedicated Women's Football Sub-Committee, and we have strong female representation in all of the union's key decision-making processes, such as Steph Houghton and Danielle Carter on the Players' Board, and Ebru Köksal on the PFA's Operational Board, who is also Chair of Women in Football.
"That is why, when we met FIFA's delegation led by Gianni Infantino, Jill Ellis and Arsène Wenger to discuss all areas of player welfare, it was vital that we had representatives from the WSL such as Lucy Bronze, Jackie Groenen and Steph Houghton. We want to make clear that when we talk about player welfare, we are not talking just about those members from the men's game.
"Collectively, we want to reach a position of professionalisation in the Women's Championship, create a collaborative and innovative WPFNCC to drive progression in all areas of the women's game, and achieve absolute parity in working conditions and protections between male and female players in English football."