Lockdowns weren't good for much but they did help footballer turned entrepreneur Grace Vella take her sportswear business to the next level.
The 24-year-old's Miss Kick label launched in 2018 to provide clothing and kit specifically designed for women. During the pandemic, Grace found precious time to rebrand. That attracted major investment and then came worldwide sales.
"My goal is to make this a global brand and reach as many young girls and women as possible," says Grace.
"Our platform isn't just about the products, it's a network that brings women together to make friends where they can share news, videos and connect to people around the world."
Pre-Covid, Grace generated sales at tournaments and events. Twenty of these were cancelled because of the pandemic but even that had a silver lining – driving people to Miss Kick's website.
"Miss Kick is about empowering the female football community," says Grace. We want to create a level playing field and show the world there is a space for females in the sport. It's about building up confidence in that community."
The business is now Grace's primary focus. Playing football, a passion since she was eight years old, is on the back burner for now.
ORIGINAL SPARK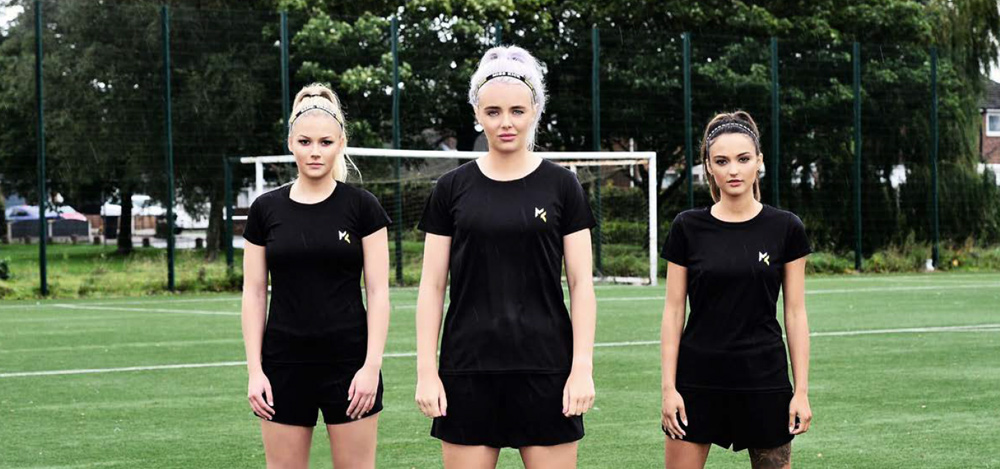 The idea for Miss Kick came from Grace's own experiences in the game, including spells with Liverpool academy and Man City. Wearing ill-fitting training gear designed for male body shapes not only exposed a gap in the market but highlighted a performance issue.
"The psychological impact of feeling comfortable and confident in what you're wearing makes you perform better," she says. "I always felt when I looked well, I performed better. I hated wearing the massive away kit at Chorley. I was so small I felt like I'd take off in the wind!"
Grace starting selling gear at football tournaments organised by her dad, Michael. The positive slogans attracted fans and the online community began to grow.
"We give girls a platform and a voice. We've had so many messages from parents. We had a girl I FaceTimed last week – she was only nine – and her mum was in tears telling me how she has changed now she's part of our community. She's doing online Zoom classes with the other girls at Miss Kick. It's about those little stories, that's what Miss Kick is – how it makes girls feel to have something they can put on and it's telling the world they play football and love football."
NOT JUST TALENT
Grace feels the game remains very tough for women. "It's still the boys getting a lot more opportunities, a lot more financial support – the boot deals and the sponsorships," she says.
"I'm passionate about the sport and want to give back so it's better for the next generation."
Certainly, her experiences in the game have benefited Grace in the commercial world. "The biggest thing I learned is that being talented as a footballer is not enough – you also have to work hard. As I got older in football, I didn't work as hard as I should have done and it caught up with me.
"Business and football have some similarities – both are male dominated. I was the only girl at half-term football clubs and you develop a thick skin. That has definitely helped me."
My football Journey
Grace had a promising career in the game before focussing on business…
Grace comes from a football-mad family and got into the game at the grassroots, playing for the local team in Skelmersdale, Lancashire managed by her dad, Michael. "He was my inspiration and he decided I should trial at Liverpool." She was 13 at that time, and had been successful in previous trials but it was the Merseyside giants who convinced her to join their academy.
"I had an amazing experience but sadly when I was 17 I got released by Liverpool, picked myself back up and got a trial at Man City. I got in and worked really hard – another amazing experience. I had probably my best season at City but sadly I got released again.
"At that point I wanted to go to university and football took a bit of a backseat. I played for the University of Manchester and I have also played at Wigan and Chorley since then."
Find out more about the UK's leading female football brand at misskick.com and on Instagram and Twitter.