Meet James Wren and Jack Dyer, two former players who turned a training gear pitch into a global success.
James Wren and Jack Dyer always dreamed big. The pair met while playing for Burton Albion, struck up a friendship and began to knock around business ideas in their car-share to and from training.
First it was a housing project, then an app. When they both moved to Nuneaton Town, they hit on a winning idea with a simple solution to an everyday problem – a vest to carry your phone and essentials while you train.
The Freetrain V1 and highly-reflective VR have now sold over 150,000 units worldwide and have generated millions in revenue. "It's a very organic product," explains James, a 27-year-old former goalkeeper. "It's something that we thought of to help ourselves. We didn't try to change something we don't know about. It's just been a real pain of ours when we've been training and trying to get fit for pre-season."
The idea became an increasing focus for the friends as their football careers began to wane. Jack had struggled to recover from an ankle ligament injury sustained as a youngster at Aston Villa. He had an operation aged 23 but it couldn't prolong his career. In all, he ruptured his ligaments seven times before finally having to call time on his football career. "The PFA were very good with me when I had to retire in terms of sorting out the operation, so I will always be very grateful for that," says Jack, now 29. And it wasn't the last time the union would step in with vital support.
KICKSTARTER
Faced with the prospect of life after professional football, Jack and James teamed up to launch a training business. They approached the headmaster of a local school and pitched kids football coaching sessions as well as fitness classes for the pupils and one for teachers. Again, the PFA provided a helping hand, releasing money from the benevolent fund for equipment.
Eight months of hard graft later and the money put aside from that training venture allowed Jack and James to fund concept designs and product development for their vest. But there was a lot of work still ahead. After three years of running the business part-time, in January 2020 they quit their jobs and went all in. "We thought 'are we really going to go for this?'," recalls Jack. "It was a great decision because, 15 months later, business has gone from strength-to-strength.
We're selling in five countries now. We have five distribution centres all over the world and the growth has been fantastic."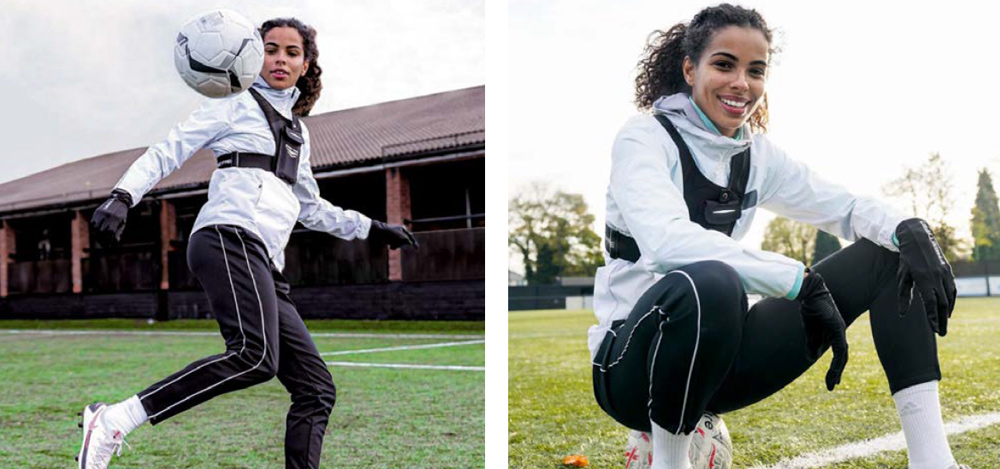 FIRM FRIENDS
Now the friends are sitting pretty with a successful business and plans for more innovative products. Both credit their initial success to their strong business partnership, forged all those years ago on the training ground. "We've built up a lot of trust over the years," says James. "When you have been in the trenches and experienced the highs and the lows with someone in a football team, you learn each other's perspective. Jack is a great person to start the business with and to work with."
The skills learned inside football translate far more readily to life outside the game than many people might think. "You go through stages of real hard work and kicks in the teeth," explains James. "I can see the resilience that you need and I think footballers, especially those who have been on the ladder and hit a few branches on the way down, get a lot of life experiences.
"Football teaches you to deal with failure and things that are out of your hands. It gives you a great temperament and that can be a big advantage in the business world."
CAREERS ADVICE
Early preparation for life after retirement can prove to be time well spent, advises Jack. "There are 24 hours in the day and in the time you're not playing football you're better off taking a course or researching business opportunities. When I look back, I'd have probably done more early on. "Sometimes you don't get this advice until you've dropped out or your career has been cut short. I would say to anyone with an idea – don't be scared to do it. People will laugh at you to start with but, if you really believe in something and you think it can turn into something special, then go for it. You've got to have your blinkers on at times and really stay true to what your idea is, who you are and what you want to create."
STAR POWER
When Paul Pogba posted a video on Instagram of him wearing a Freetrain vest, the product received a massive boost in terms of exposure.
It was the kind of advertising money can buy – but only with the marketing budget of sportswear's big hitters. "It was a little bit of chance," explains James. "We had given the product to a couple of Man United players and somehow one managed to find its way through to Paul. It was a great moment for us because he's one of the best players in the world and he's in our age group. It was a real seal of approval, it showed us that our idea had been accepted by pro footballers." Jack says: "When you see the likes of Paul Pogba wearing the product, you don't get a higher level than that. It's really rewarding. We've got to that level of the game but it wasn't through kicking a ball."