On the eve of the Premier League restart, Manchester City and England's Raheem Sterling released a powerful video on his social media as part of the Black Lives Matter movement, calling for a change in the way black people are represented in football and the wider society.
The 75 second clip is themed 'tiredness', with Sterling and a number of other high-profile players discussing how tired they are of the lack of equality, the need to protest to have their voices heard and of black men dying.
PFA member Sterling was joined by nine other football figures for the video: Kevin De Bruyne, Gaël Clichy, Alex Oxlade-Chamberlain, Luzy Bronze, Jadon Sancho, David Alaba, Vincent Kompany, Jordan Henderson and Gary Lineker.
In the video, each player delivers a line on why there is a need for social change: "We are tired of no one listening" "We are tired of screaming for help" "We are tired of demanding social inclusion". The video finishes with Sterling saying "I will never tire of being black" and a closing slogan that reads "Change needs to happen, and happen now."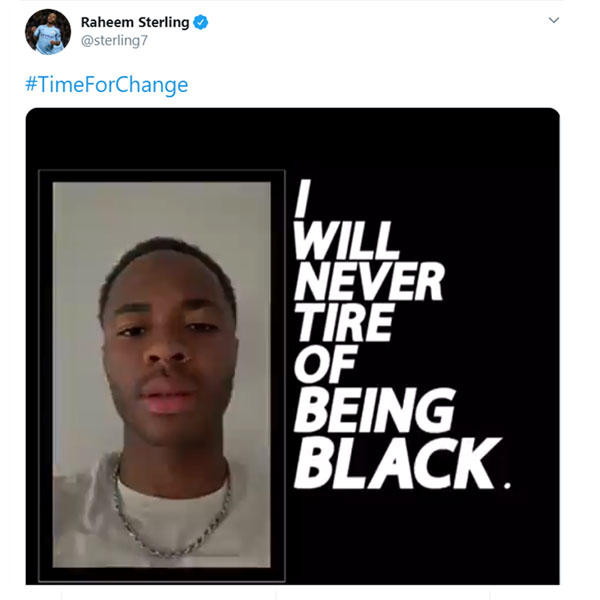 To see the full video, click here.
Sterling has often been a key figure in the centre of the country's debate over race for a number of years and has tirelessly called for fairer representation of black footballers in the media and a change to the social injustices black people face in the wider community.
Sterling told Sky Sports: "I'm not someone with the most ideas in the world, or who knows exactly what to do, but we just have to highlight these things that people are facing in everyday aspects of their lives.
"I truly do believe that now is the time that we have to act."