By Tony Dewhurst
"They've shown through their tireless work, providing hundreds of free food hampers during the pandemic to needy and vulnerable people in Preston, that Preston North End's Community and Education Trust has made a huge difference to people's lives. They should be very proud indeed." John Hudson, PFA Director of Corporate Social Responsibility.
Preston North End's Community and Education Trust was crowned the Community Club of the season at the North West Football Awards. Tony Dewhurst talks to their head of community Tom Drake.
TOM Drake's voice breaks with emotion when he recalls those challenging first few days of the Covid-19 lockdown in Preston.
He also remembers that one of his first calls that March day was to Preston boss Alex Neil.
"I said to him that we wanted to deliver free food hampers to the needy people in the city," said Drake, North End's Community and Education chief.
"People were in desperate financial difficulties, because of the impact of the pandemic and we should be doing something to prevent that happening and provide that crucial support."
He added: "We are a community club in the sense that the players are so heavily involved with everything we do.
"The manager and his staff wanted to help straightaway and that was brilliant."
Twelve hours later there was £7,500 in the Helping Hampers fighting fund and the generosity shone through in the darkest of times.
With valuable contributions from Deepdale's players and staff, it launched a vital food provision, feeding many elderly and vulnerable people unable to leave their homes due to the national emergency.
It is no wonder then Drake calls the Community and Education Trust, the official charity arm of the club, a hidden gem.
"For the staff there was joy, but some sadness too and a lot of them were very emotional when they came back," said Drake.
"It was very challenging because it really hits home when you confront poverty and loss."
One of their first visits was to an elderly gentleman who had lost his wife to Covid-19.
"His family didn't live in Preston and he was struggling with the grief of losing a partner and a terrible loneliness.
"He was isolated, his mental health was poor, and the chap didn't have the basic essentials in his life and somebody to talk to."
Many families, said Drake, were stricken by poverty and struggling to make ends meet.
One, a single parent, lived with three children in a tiny bedsit in the city centre.
"The poor children just had the clothes they were wearing and no others," he said.
"As a parent, then that really did pull on the heartstrings.
"They didn't have a penny, and it was devastating to see that level of poverty."
But the PNE Community staff dug deep again, collecting a bumper selection of toys and clothes for the needy family.
Said Drake: "The parent opened the door and was in tears when they saw what they had brought for the kids.
"It was a huge positive that our staff wanted to go above and beyond the call of duty to help."
However, it was not just about a one-off visit with a food parcel, they forged a strong personal connection too, helping improve people's well-being in a time of great crisis.
And when communities stepped up to the plate to provide free half-term school meals to children following a nationwide campaign by Manchester United's Marcus Rashford, Drake and his team swung into action at Deepdale.
"It was not nice to see, parents not able to feed their children," said Drake.
"There was a long queue outside Deepdale, and it was about providing that network of support to disadvantaged people who needed it.
"One lady was struggling herself, but she just wanted to provide for her kids.
"We asked her if she was okay but her only concern was her children."
He adds: "Over a couple of days, we handed out hundreds of free packed lunches."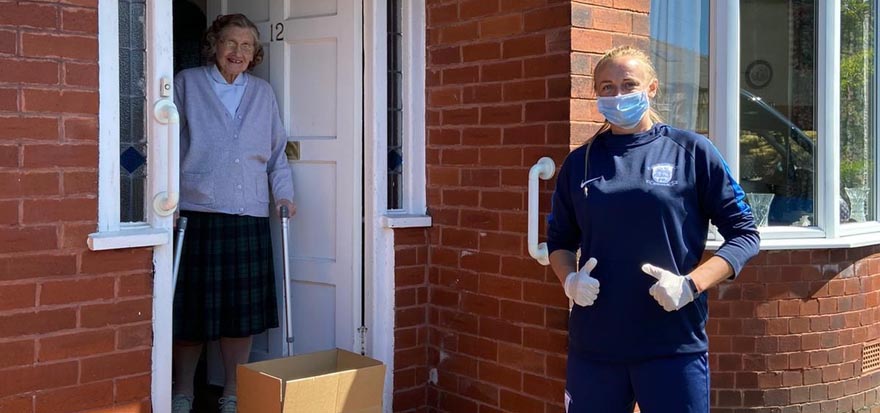 A year ago, hundreds slept out at Deepdale on a bitterly cold winter's night, as part of the Community and Education Trust's efforts to combat homelessness and rough sleeping in the city.
The Big Sleep Out sponsors and donors raised £100,000, helping the Foxton Centre, a charity offering support to vulnerable adults in Preston, to buy and renovate a house for homeless people.
Preston North End striker Louis Moult championed the cause after losing his mum to alcoholism aged 15.
North End boss Alex Neil took a keen interest also, and he was visibly moved by a visit to the homeless refuge.
Drake said it was a great honour for the Community and Education Trust to partner the Big Sleep Out and that the new property would change the lives of many rough sleepers in Preston.
Said Drake: "When you visit the Foxton Centre it is right in your face – there's no rosy picture.
"There's people there with really complex issues, addiction and mental health, but they are in the right place with the right support to aid their rehabilitation."
Their cause could not have a finer ambassador than Moult.
"Using his journey in life, Louis has made a massive impact to encourage people to get involved in helping the homeless and we are so proud to support the Foxton Centre," added Drake.
When you thumb through the Community and Education Trust annual report there's a blizzard of dazzling ideas, initiatives and courses for every generation.
Last year, the PNE Community Trust delivered 26 projects, for programmes aiding the physical, mental and emotional health of people, as well as providing a wealth of social benefits and further education.
For example, hundreds of children completed the healthy eating and lifestyle programme, while eight mental health patients gained a sports coaching qualification.
Said Drake: "Winning the Community Club of the Season is recognition for all the Trust's incredible work – I'm very proud of them."
Drake added: "I want to keep shining this hidden gem so that everybody knows about us."