With the eyes of the world fixed on the Women's World Cup in France this summer, there is no doubt that women's football is having its highest profile moment yet.
Record-breaking viewing figures, sportsmanship and controversy surrounding VAR have been dominating the sports news cycle, and with an audience of almost 12 million, England's semi-final match was the most watched programme of the year so far. In 2015, the Women's World Cup in Canada seldom made national headlines, but this tournament has enjoyed an unprecedented level of media buzz and coverage. Twitter has featured live match updates, matches are being shown at favourable times on the BBC, and conversations around the competition just feel different.
And yet, anyone who loves the sport is right to be a little wary because we've been here before. After every major women's football tournament including the London 2012 Olympics, there has always been a huge surge of interest, and anticipation that the turning point for propelling the women's game onto the platforms it deserves has finally come. But each time this heightened attention has failed to deliver. This time around, with England's superb performances through the competition and news of a Barclays sponsorship deal for the Women's Super League next season, there seems to be an almost tangible feeling that this will be the moment when the sport gets to take centre stage.
Manager of Manchester United Women, Casey Stoney MBE agrees. In terms of media exposure, it has been the biggest World Cup we've ever seen in the women's game. However, the biggest advocates of women's football now realise that if we are to take the sport to the next level, it is crucial that we capitalise on this buzz once the Lionesses return home. "We need to get bums on seats" says Casey, "But if we want the game to be more visible it would help for it to be on free-to-air channels on TV instead of pay per view. The viewing figures for the England games have showed that there is an appetite there, but those numbers don't translate into WSL ticket sales on their own. If we want to make the sport more visible, we need to make it easy for people."
Casey also highlights her concerns on the lack of media reporting that surrounds women's football, "One of the biggest issues in the game at the moment is visibility, in terms of broadcast, newspapers and media. We need to think about whether women's football is being covered enough. Without proper visibility, you're not going to get money or sponsorship into the game and people aren't going to want to invest". Casey concedes that things have been changing and the coverage of this tournament has challenged these issues to some extent, but believes the disparity in sponsorship levels between the men's and women's game is still shocking.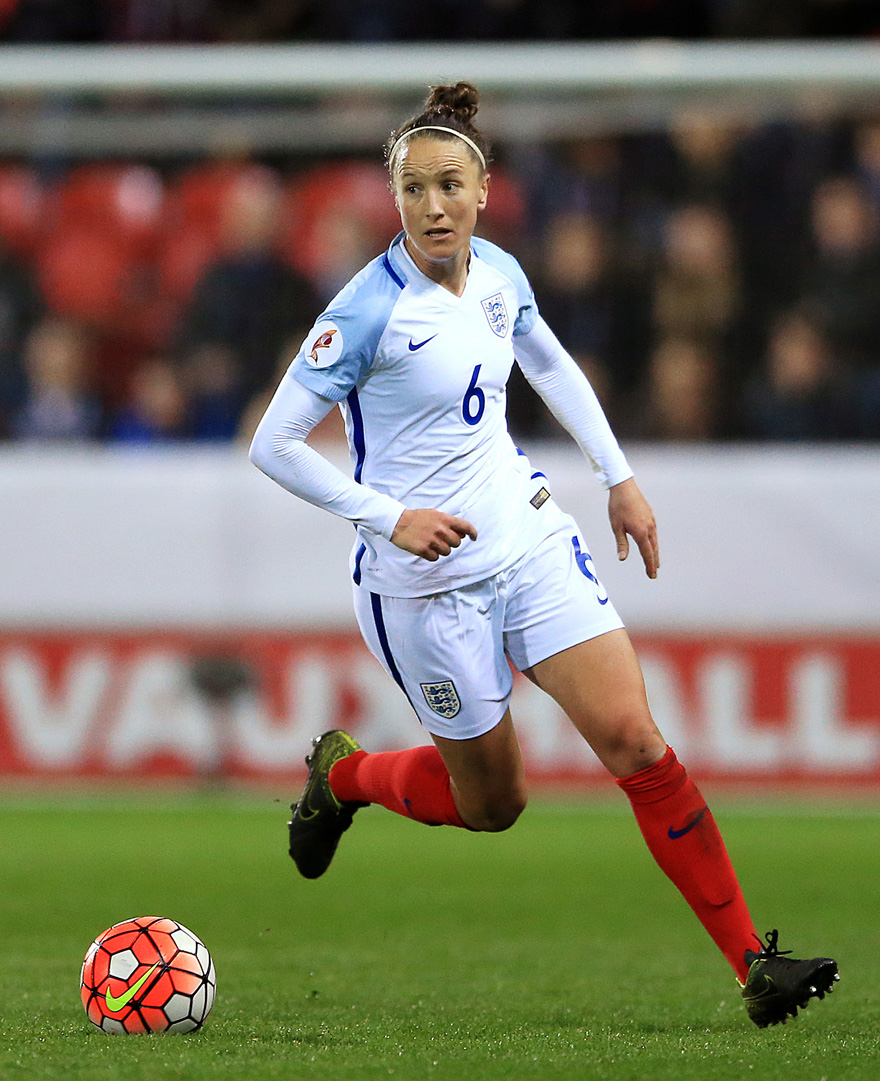 Casey Stoney playing for England
As former England captain and with a career spanning over two decades, Casey is one of the best-known names in women's football. The former Chelsea, Arsenal and Charlton defender is no stranger to breaking down doors, leading her to become one of the first women to sign a professional contract with the FA in 2009. That year also saw her become a player coach at Chelsea and she was also the first female member of the PFA Management Committee. Casey has now put her years of coaching experience to spectacular use as head coach of the newly reformed Manchester United Women, securing them promotion to the WSL after just one season. Speaking on the incredible feat Casey says, "It's been a massive learning curve. It's not new ground for me as I've been coaching since the age of 17, but being head coach of such a huge club is a massive role that comes with a lot of expectation. It was stressful at the beginning, but I have a lot of support and it's been an amazing experience. I wouldn't want to be doing anything else, and if I can contribute to Manchester United's football history, I'll be happy ".
As part of that history Casey acknowledges how much things have changed in women's football in just a few, short years. "It's a world away from when I started out. I played in a boys' team to start with, and I had to play senior football at 12 years old because there was no junior girls' team. We even played in men's kits, which were huge on us because there wasn't anything else. Now, the top level of the sport is professional and there are so many roles across the game for women to get involved in. As a player there are also far more opportunities and it's a real viable career if people are good enough".
Despite the noticeable progression in women's football, there are still important changes to be made, and coaching is one place Casey feels these changes are particularly necessary. "Every coaching course I've been on, I'm usually the only woman, and I always have to earn respect when men don't. I'm not sure I'll ever see women coaching in the Premier League because there are still lots of barriers, and the tenure is usually just over a year, so there is a lack of longevity. I think for a woman to go into the men's game is a brave decision."
These unequal standards for men and women feel even more unfair when you take into consideration how much discrimination female footballers still face, but Casey believes that's part of a wider societal problem. "Women absolutely still face discrimination in football" she says, " you're still told 'what do women know about football' and you only have to look at social media where they send us pictures telling us to get back in the kitchen. I laugh because people actually take the time to do that and it's pathetic. Every single day you're told you shouldn't be doing your job, so we need perceptions of the women's game to change, but I don't think that's necessarily just football, it just shows us where society is ".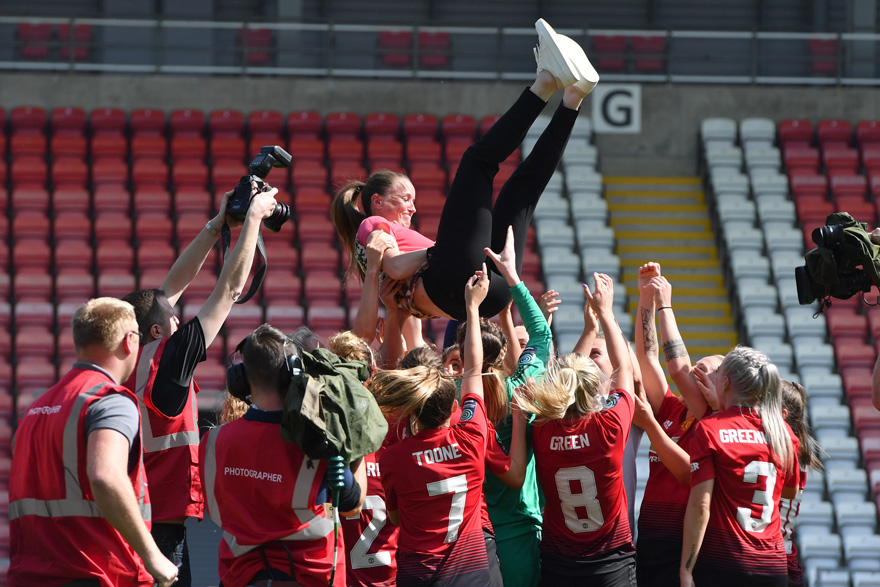 Casey Stoney celebrating with her Manchester United team
There are still microaggressions specific to football that can impact on the next generation of players though, and Casey has had personal experience of those herself. "When I take my little girl to buy a football kit she shouldn't have to be picking a boy's one, but that's all you can find. They should just be labelled 'child' otherwise girls are being told at a really young age they shouldn't be involved in the sport. I think football has the ability to bring so many communities together and it's so powerful, so we can absolutely do more".
For all the challenges that the women's game faces, there are still areas where it has progressed much further than the men's. Most prominently, the number of openly gay female players. Casey believes this is because of the difference in atmosphere between the two sides of the sport and one of the benefits of being under less scrutiny. "There is a difference in the profile of the game, and that means a difference in the terraces. Women's football is very family focused and you rarely hear abuse. In the women's game, your team mates respect you for what you do on the pitch, they're not interested in your personal life and the fans aren't necessarily going to criticise you for your personal life either, which means you can be more open about who you are".
This inclusive environment reflects the potential for football to bring people together, and Casey has a few ideas on what needs to happen to truly take women's football to the next level. "Firstly, investment is needed go in to marketing the game. Clubs needs to do more to make sure their teams are visible so people can come and watch. After that I think coaching needs to be supported, because ultimately if the advert on the pitch isn't good enough, then people aren't going to want to watch it anyway, so we need to ensure that we are increasing the quality on the pitch. I also think we can learn a lot from the way the Premier League is run, because they've got a wealth of experience and they've made such a success of expanding their league to make it the best it can be."
With so much riding on using the current media and fan attention surrounding the World Cup to move the sport forward, this is a highly pressured, albeit exciting, time for all involved, and Casey thinks it's important to reflect on how much progress has already been made. "We need to recognise how far we've come. Those who came before us paved the way for people like me, and they showed us it was possible. Watching what those players have done, has inspired me to do the same. I measure myself on what I've done for the game and where I've left it, and I want to leave the sport in a better place than when I became part of it. I hope the current players now feel that way too".