Claire Stancliffe was told her career was over after suffering a catastrophic knee injury when captaining Great Britain women in the bronze medal match against Brazil at the 2017 Deaflympics.
Claire talks to Tony Dewhurst about how the Professional Footballers' Association helped resurrect her hopes of representing England at this summer's European Deaf Football Championships in Greece.
I've been profoundly deaf since I was four and growing up, I felt like I was the only deaf person in the world.
It sounds silly, but if you don't know anybody else who is deaf then you feel very alone.
People, generally, don't understand deafness because it is a hidden disability.
I was 17 when I really started to struggle with being deaf.
I love football – it is my life - but I also realised how isolated I felt and what I was missing out on.
I had to play in the boys' team at school due to the lack of female participation.
I was competing in ladies league football at 15, but sometimes not able to communicate on the pitch, players would have a go at me.
The only way I could communicate was through sign language or lip-reading.
It all had a massive impact on my confidence which meant I didn't play as well as I could, and I didn't want to go to training.
It was very hard, but I did some research, and to my amazement, I found that Great Britain had a deaf squad.
To participate in deaf football, you must have a hearing loss of 55 decibels or more in your best ear which is considered severe hearing deficiency.
And when I was invited to the first GB squad, I met 30 players who were deaf – and it changed my life.
Claire, you were 19 when you made a remarkable international debut for England against South Africa at the 2008 Deaf World Cup.
'It is every footballer's dream to score on their debut and that's a day I will always treasure.
"It was the opening game and I netted in the fourth minute of the tie.
A 30-yard shot - it flew into the top corner it did.
I'm naturally left footed, but I hit it with my right foot.
I scored a further three goals in the game and England won 10-1.
It has proved to be a long and difficult return from injury, but you are back in the international fold again after being selected to attend the England Deaf Women's Camp at Lilleshall Sports Centre.
I can't believe where I am today, fitter and stronger, and never in a million years did I think I might have a chance to play for my country again because the injury was so severe.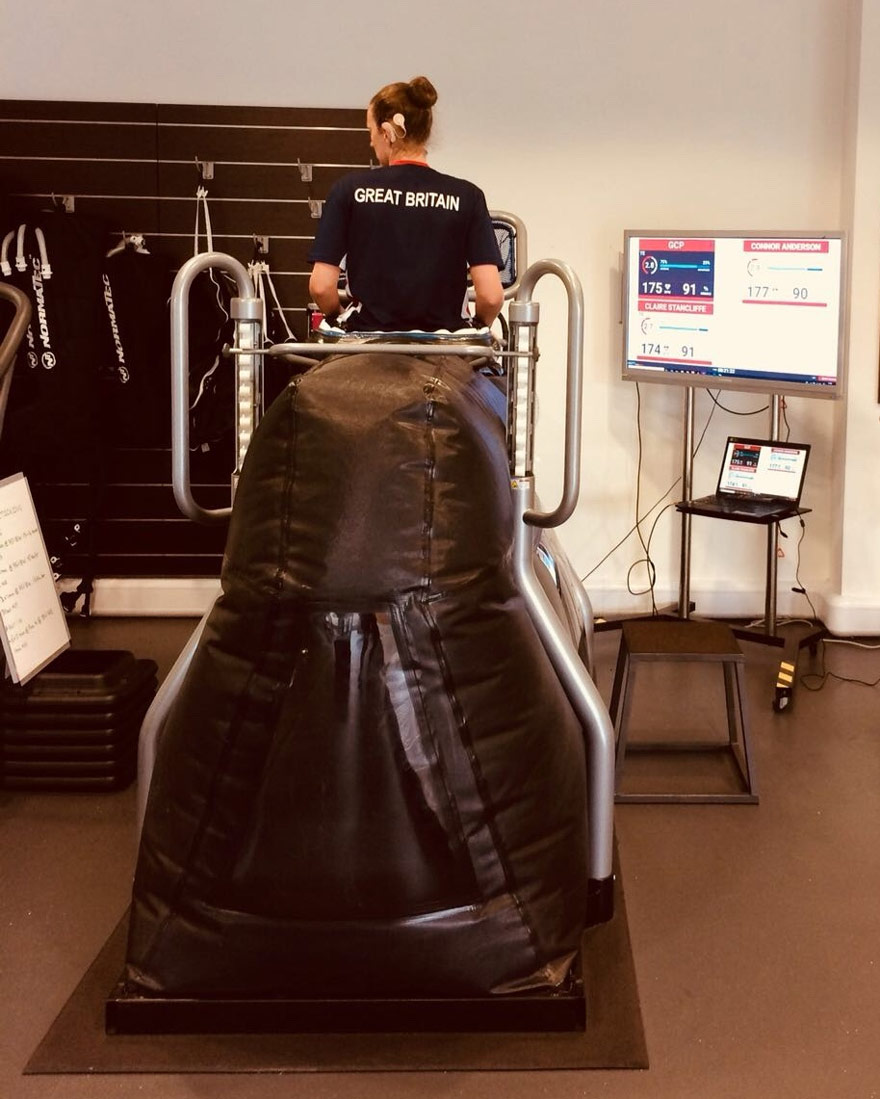 Claire at the PFA Rehab Scheme, St George's Park
I ruptured a cruciate ligament with an impaction fracture, tore two ligaments, a tendon and crushed both sides of my cartilage.
I had to learn to walk again, and the many months of recovery and pain over the last couple of years was brutal.
I questioned myself every day: Will I ever play football again?
I almost gave up.
And without the assistance of the Professional Footballers' Association I've no doubt that I would have retired from football.
I struggled badly with the prognosis, mentally and physically.
I couldn't accept it – football means everything - it is my release.
Fortunately, the sports commentator Jacqui Oatley had seen my story and she suggested that I contact the Professional Footballers' Association.
I wrote to Gordon Taylor and he said that they would be able to fund a week's residential stay with the PFA Rehabilitation Scheme at St George's Park.
The union also assisted with most of the cost of my physiotherapy with Fred Braithwaite at Strong Lines Physiotherapy.
It was an incredible gesture and the treatment I received there was out of this world, with access to the best physiotherapists and experts.
There would be just no way I'd be back in this position without the PFA.
And, if I was chosen for England this summer, it would mean the world to me.
Now the Football Association work in partnership with Great Britain Deaf Football the squad no longer have to fund themselves, as home nations will now compete at the European and World Championships.
You played a significant role in fund-raising so the women's Deaf Squad could attend the Deaf World Cup and Deaflympics.
"Funding was always a massive issue and shortly before the Deaf World Cup we were told that there wouldn't be a team representing the country.
I was determined, though, and said, 'If I can raise half the money in 30 days, can we go?
They agreed – but I don't think anyone believed I could do it.
By New Year's Eve we had £3,000 and then I saw a new donation posted on the site.
I opened it and saw it was a £5,000 donation from Stoke City goalkeeper Jack Butland.
I was absolutely astonished and felt like crying.
It was a magnificent gesture by Jack and that really set everything off with the campaign featured on Sky Sports News.
And James Milner, of Liverpool and England, also generously gave £5,000 to the cause.
After that, we set about raising enough for the men's/women's squad to attend the Deaflympics.
The main priority was £20,000, though, to pay the flight deposit for all the staff and players.
I knew that would be difficult, but somehow Gary Neville had seen a tweet I'd sent out and he gifted us all the deposit.
And a day before the whole amount was due, we hit the £100,000 target.
I will never forget the kind generosity of the public, and those incredible donations by Jack Butland, James Milner and Gary Neville.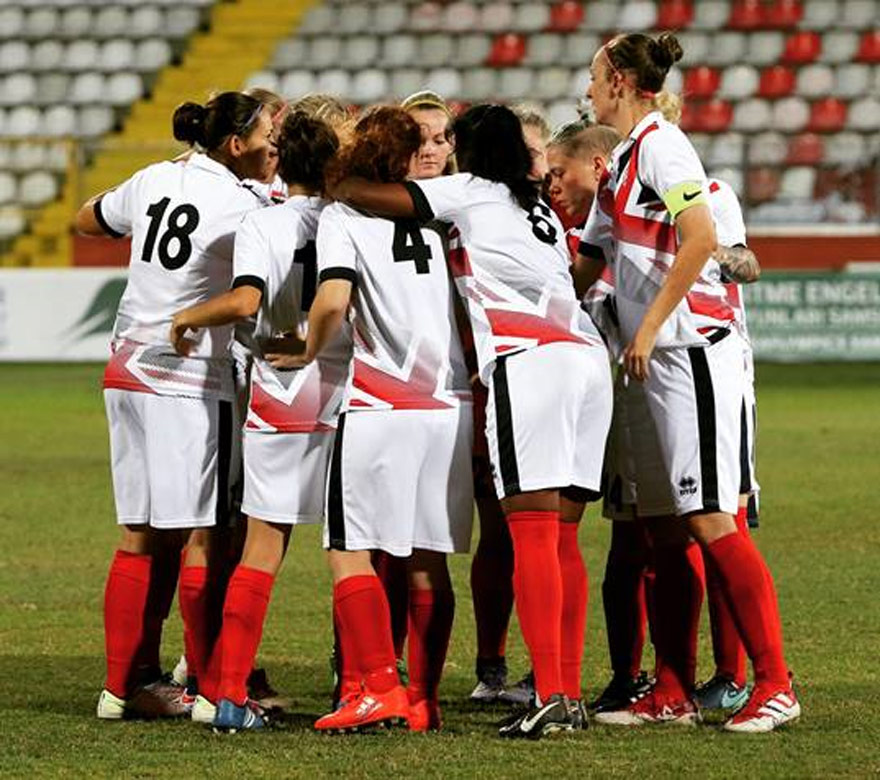 GB squad before the bronze medal match at Deaflympics 2017
For confronting your challenges in life and inspirational fund-raising efforts, you were voted Sky Sports Sportswoman of the month ahead of Wimbledon champion Serena Williams by viewers.
"I was gobsmacked and thought how on earth can I compete with superwoman Serena Williams.
She had a fan base of millions, so how could I win against a super athlete like Serena?
I had so much support from across the world and it was a huge thing for the deaf community to have a deaf person recognised in that way.
For me, though, it was more important that deaf football was getting the coverage and increasing the awareness for other young people with hearing loss and show them what can be achieved.
I have a job: a senior sports coach, I passed my GCSEs, graduated from university and represented my country.
Football hero: 'I was a midfielder when I started out, so it has to be Steven Gerrard because I'm a Liverpool fan.
As Steven grew into the Liverpool team, he became a leader and a fine role model.
He has composure and humility, and I like to think I present myself in the same way when I play football through my behaviour and attitude.
It is always very important to show the right amount of respect for people, whether that's the opposition or the referee.
As women's football grew, I really liked the style of Jill Scott.'