Many footballers enjoy a lengthy and enjoyable career in the professional game, but many of them leave football prematurely.
They too, though, can also benefit from the wealth of advice and help the Professional Footballers' Association provides.
Former Oxford United Academy star Matthew Willett has qualified as a doctor and now practises at the Royal Berkshire Hospital, Reading.
Matthew talks to Tony Dewhurst about his dramatic change of career and how the PFA helped achieve his goal.
I was approaching my final year at medical school at University College, London, when I received a message from the Professional Footballers' Association Director of Education Pat Lally.
It was a complete surprise and a call which helped change the course of my life.
Pat kindly explained that he had become aware of my goal – to be a doctor – and perhaps the PFA could help me.
Pat had noticed that I had never applied for an education bursary from the PFA and that I might be eligible for some assistance.
It never occurred to me that help was available because I never made my professional league debut for Oxford United.
In fact, I had left the club ten years earlier.
It was mighty tough living in London, with the cost of living sky high and a challenge to survive financially, so the news was very welcome.
All I had was a student loan, and the possibility of a bursary, a substantial sum of money, would really help.
It was a hand to mouth existence on a very demanding six-year course with a huge work load.
I'd often work long days in hospitals and surgeries and many hours in the classroom, but that was what I had to do.
So, when the PFA awarded me a bursary their generous award provided me with an incredible boost at a crucial time.
It does say a lot about the players union, I think, the way they work and what is important to them in terms of helping players past and present.
It doesn't necessarily have to be about supporting players who have fallen on hard times, and they do that brilliantly, but by assisting others to achieve and get better.
And to have a strong footballer's union who support past and present footballers, shows what the PFA is about and how pro-active and supportive they are as an organisation.
They played a major role in ensuring that I got through my course to qualify as a doctor.
I do think that there are certain parallels between football and a career in medicine.
They are both very dynamic environments and are very privileged positions to be in.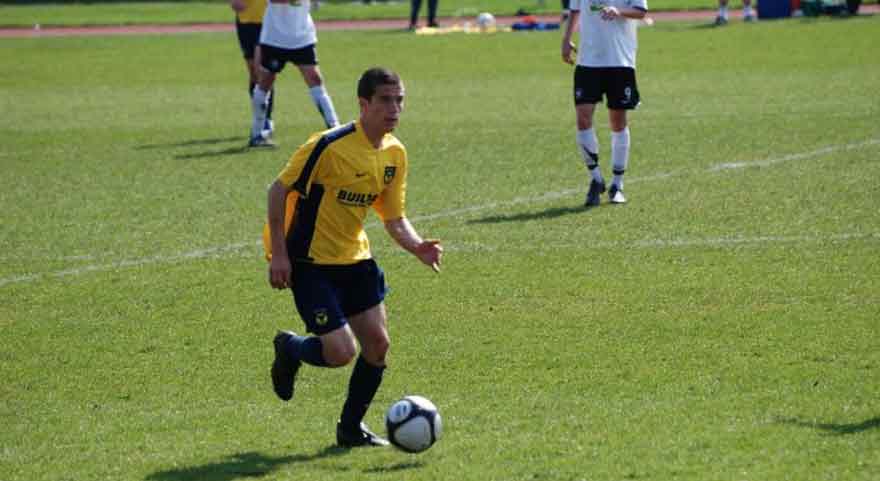 At Oxford, I was always in the physiotherapist's room, learning how the body works and recovers from the injuries sportsmen suffer.
I thrived in that environment, communicating with people from all sorts of backgrounds, as I do now as a doctor.
I enjoyed the pressure of having to perform on the pitch – but a career in medicine is a different type of pressure.
As a newly qualified doctor, you are thrown in at the deep end, making life and death decisions.
While it is something I've been very well prepared for, looking after patients in their first days of life and in their dying moments, then you are bound to find a strong emotional attachment.
And while dealing with sick patients can be a daunting prospect you can't let it affect your judgement because there are many other patients relying on you.
I don't think you can close those emotions out, though, it is something you take home every day.
Everybody, I think, sees a doctor as a person who saves lives or cures diseases.
But sometimes it not just about fixing, it is making sure that each person is getting the best quality of care because not every disease is curable.
It is also about supporting the patients' family, and that is a very privileged thing for any human being to be involved in.
Since I qualified last year, I've worked in the operating theatre and now my ambition is to be a surgeon.
That means seven years of exams and study before, hopefully, qualifying as a consultant surgeon.
Football is a different world from any other career and I had that dream.
I was aged eight when I signed junior forms with Oxford United, and at sixteen I was training with the first team.
Chris Wilder was in charge at Oxford then and was a very inspirational character to be around.
He has done a truly brilliant job with Sheffield United in the Championship.
As a young scholar at Oxford it was a demanding environment, you are constantly assessed and monitored, but I enjoyed the cut and thrust of football as a hard-tackling right-back.
Yet, there was those niggling doubts in my mind about making those gigantic steps up the ladder to be a professional.
I asked myself: Is this the best way to fulfil my potential?
After much soul-searching, I made the decision to leave football and study medicine.
It was a massive decision and it changed my life.
I did feel guilt, because football had invested in me and it was a career I had been working towards for many years.
It was certainly not a decision I took lightly and not one I made because I'd fallen out of love with the game.
Like many young boys I would have loved to play professional football, but I had to make a sensible decision.
For one reason or another, football isn't for everybody.
But I will always be immensely grateful to the Professional Footballers' Union for their generous help and advice – they have made a huge difference to my life.
Thinking About A New Career?
The PFA offer a wide selection of education programmes, and funding is available to support any nationally recognised qualification for current or former members. If you're interested in exploring your next steps, learn more here.