Meet three of the Women's Super League stars honoured by the PFA for their outstanding work in the community.
ANITA ASANTE
CLUB: CHELSEA
BORN: 27 APRIL 1985, LONDON
What are the main things you've been working on in the community?
I went to a foundation event where children worked on poems – that was about encouraging them to raise their self-esteem, building confidence in young girls and boys so they believe in their dreams and themselves and they share ideas about what they want to be. I've worked with a number of secondary schools where young people have created poetry and raps to break down barriers. And there are all sorts of other events, like We Remember from Remberance Day, which helped everyone at the club broaden our knowledge. As a club we work against discrimination in any form and now we are going to Israel as part of that to learn more about the culture there.
Why do you get involved in community events?
Anything I feel I value I will do. But I also recognise there are so many ways to help put a smile on someone's face and that can make a huge difference to them. As a young player I wished there were people who came to our schools and neighbourhoods to see us. Sometimes it just takes one local hero to inspire people.
Tell us about Amnesty International and Football Welcomes, the campaign to give refugees an opportunity to attend matches?
I got involved in Amnesty and stayed engaged and met other ambassadors and that project is something I feel passionate about. I got to meet so many refugees who had such struggles. Football Welcomes helps to bring them joy and the clubs involved have seen such a positive impact. Many clubs learned so much about the difficult circumstances faced by some people in their community. As a first generation immigrant myself – my parents came here – it's good to be able to help.
Does the growth in the women's game amplify voices like yours?
Yes. When you think about notable people that take activism on board you see the reach they have. Going back to this summer's World Cup, the likes of Megan Rapinoe and the US team standing up for equal pay and gender equality shows how far the reach can go, especially if you have a platform to share the message. As long as WSL and the women's game here keep growing we can use the platform to voice issues.
Would you call yourself an activist?
I think that that's fair. I have a lot of opinions and try to know what's going on as much as possible.
You've been vocal about race and gender in football – does it take change at the top of the game to address those big issues?
Yeah. I understand change takes time but it's also just culture and mindset. When we see the disparities we can chip away the barriers. That's starting to happen in broadcasting with more BAME people but it's lacking in other areas. Having more than one voice from one background is going to improve football's culture and the environment and make it more equal.
LAURA RAFFERTY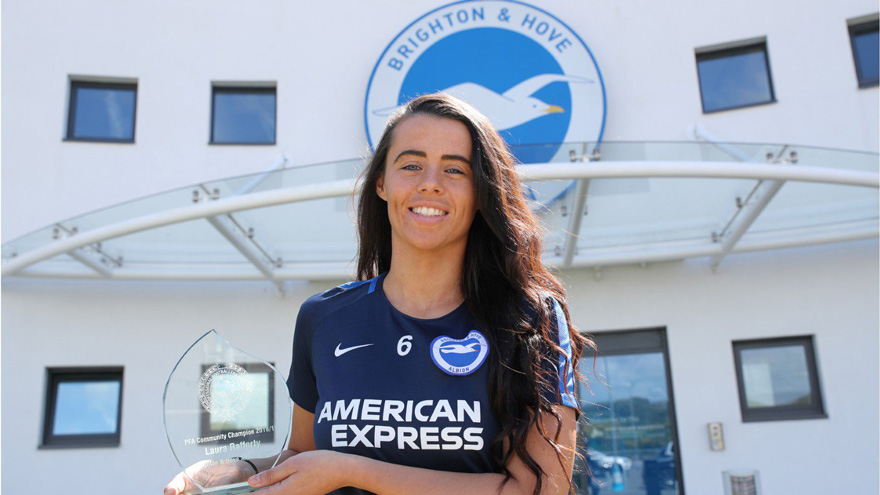 CLUB: BRIGHTON
BORN: 29 APRIL 1996, SOUTHAMPTON
Congratulations on being named a community champion. What projects have you been involved with?
I've supported a charity called Forward Facing, which works with kids who have lost members of their family or suffer with physical or mental disability. I went with [former Brighton men's club captain] Bruno and we did a massive theatre show of The Greatest Showman. We got up on the stage and danced with them, had some fun! They loved every minute. You give them a bit of attention they're not used to and it really makes their day.
Is it all huge events like that?
No, we go around a lot of schools and make other visits. I went to a probation office to speak to ladies who had been in prison. They talked about how you have to grit your teeth and put things back together again when your life changes. We cover lots of things – working with people who have illness, disabilities or circumstances that have changed their lives.
How do you select projects?
I try to get involved in as many as I can. Last year I did a lot more. It's not just charities, it's important to get around everyone. People in the community love it when you're from Brighton and don't care if you're female or male – we have a very good connection as a club.
Does it work well teaming up with a male colleague for community work?
Yeah, initially you think the people will just want to see the male player but the conversation has completely changed. We've built a strong brand as a club.
Does community work help to grow women's football?
It's important to the women's game to get out there to encourage people to watch us. When they do, they enjoy it. It's a win-win for us. It gives people something else to enjoy and with women's football you can meet the players after the game – it's a bit more hand on. It's a two-way street. We go down and make them happy and make a connection and they want to see what we do and support us. We have sold the most tickets ever this year and a lot of the fans are from community groups. We don't do it for that reason, we do it to enjoy ourselves, but it is helping to build the business too.
Is it hard to handle the tragic situations you encounter?
Yes. We are professional footballers, not health workers trained to deal with it. I spoke to a little boy who had lost his parents. He wasn't really interested in football but I connected with him. I got him a ticket for the game and said he didn't have to use it but the opportunity was there.
What did you learn when you visited the probation office?
Some of the stories about people who had been put in prison… I couldn't believe what I was hearing at times. They had been through so much in their lives. Working with the community gave me a totally new perspective on my own situation.
SOPHIE BAGGALEY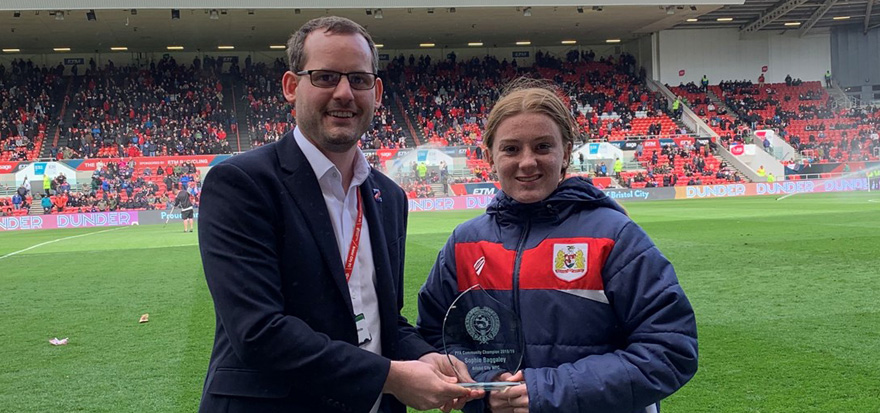 CLUB: BRISTOL CITY
BORN: 29 NOVEMBER 1996, NEWTON, DERBYSHIRE
You've had an award-winning year with the FA WFA Players' Player of the Year award and being named in the PFA Team of the Year, what's it like to be recognised off the pitch as well?
It's nice. It's part of being a footballer that gets overlooked. We're in a privileged position to inspire younger girls and we need to get out there and do more to inspire the next generation.
Why do you think you connect so well with supporters?
I don't know, I just think it's important to remember we were all in that position once and it means a lot to the girls when they're little. It can inspire them to start playing or carry on with their game.
What community activities have you been involved with this year?
I helped to coach the academy girls goalkeepers at U12 level. As a team we've been to charity events, I've made lots of player appearances. You sometimes don't realise how much difference that can make to people. It's nice to be able to put a smile on people's faces.
Is the World Cup legacy helping female players make an impact off the field?
Obviously the profile of the game has increased and it's more of a big thing for the kids now. The World Cup being on TV over the summer gives us a big opportunity to capitalise on that to inspire people.
Is community work for every player, regardless of their personality?
I think everyone can have an impact. It could just be having a chat with some fans at the end of the game. You don't have to get out there in the community, necessarily.
Will the PFA community champion award help to raise awareness of the good work of players?
I think it helps. It highlights that footballers do things outside of their work on the pitch. Obviously there's a men's side and a women's side, which is a good thing. It's just another way to raise the profile of the community work.
Does pairing male and female players for community visits work well?
Yeah, especially as Bristol is emphasising the one club mentality. It allows us to emphasise that message to the community. You have young girls and boys at the events, so having a female and male role model really helps with that.
Are you comfortable with the role model label?
I think if you're in the position we are as footballers, you have to accept that you're a role model. Lots of people in our fanbase are children so we have to take that responsibility on board. I'm comfortable with it and I think every player should accept the label.
What's your message for players not involved in community work?
Get involved as much as you can. If there's an opportunity to do something, it may not be in your comfort zone but have a go. It can really develop you as a person as well as a player.
"It's no surprise to me to see the outstanding winners and huge success of the number and quality of player appearances across the season in general. As the women's game has continued to develop at a rapid rate the players are so aware of the impact they have as role models and enjoy giving back to their communities. They understand the huge benefit and empowerment of the support given and their inspiring influence. In general, the women are all too aware of the inequality and often the struggles they have had to overcome as individuals to continue their football career paths and become the players they are today. They want to leave the women's game in a better place for the next generation of young players starting out and by supporting their communities they can help to achieve this and champion the sport going forward."
Marie Christine Bouchier - PFA Player Management Executive