It is with great sadness and heavy hearts that we inform of the passing of PFA staff member Pat Wilkinson.
"We are very sorry to report the loss of a much-loved colleague, Pat Wilkinson who died after a long fight with cancer on 15th September. Having left work due to her ill health in 2010 we were thrilled she felt well enough to return to the PFA in November 2017 until the latest bad news. A lovely human being and an honour to know, she will be missed by all that knew her but never forgotten.
"God Bless her"
Gordon Taylor
Pat will be deeply missed and all at the PFA send their sincere condolences to Pete, Adam, Tim, Pat's mother Ann and Pat's family and friends.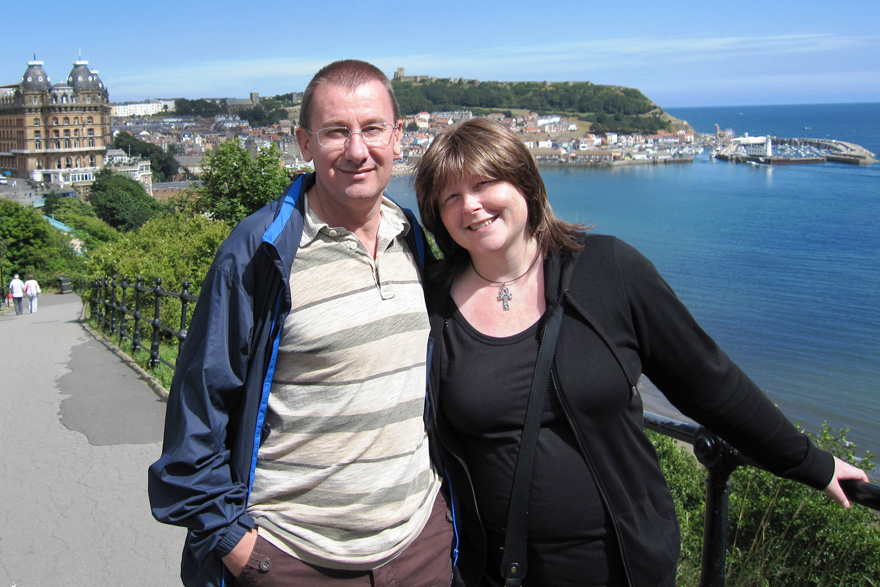 Pat Wilkinson Eulogy
I was born on 30th May 1964, in a thunderstorm following some unusually hot weather. Mum says all the babies in Park Hospital decided they'd arrive at the same time that day.
The first few years of my life were spent in Flixton. Apparently, I was quite the explorer and regularly had to be retrieved from neighbours despite the gate being tied up. Mischief was my middle name… apples on the tree would mysteriously develop bite marks without being removed from the branch. Cake was made by emptying flour into an armchair. Matches had to be quickly snatched off me.
When I was four, we welcomed my little brother Tim, then shortly afterwards emigrated to Australia for two years because Dad was searching for a better quality of work and life for us all. I started school at the grand old age of six there, though I brought myself home on at least one occasion when I'd decided I was done for the day. My main memory of that time was that I was always too hot, though little Tim the summer baby seemed to love the weather there.
When our Australian adventure that didn't live up expectations, we moved back to Irlam near Dad's family. Mum's medical background made her ideal to take messages and look after the local doctor's surgery while Dad, with his military and Fire Brigade service, worked shifts as a security guard and later as a Lock Gateman on the Manchester Ship Canal. Claim to fame: the daughter of that local doctor is actress Lesley Nicol (the cook from Downton Abbey). When the doctor closed down his surgery and moved into a new group practice, we had a brief time in Cadishead before moving back to Flixton.
Morris Grove is where some of my fondest and most enduring memories are set. The old terraces backing on to Birch Grove with the shared back alley. Buckle-on roller skates that were a broken ankle in the offing on cobbly uneven flags. Playing with Tim with a miniature steam engine running on meths or something… definitely wouldn't pass muster with the health and safety brigade nowadays! Being right next to the Mersey, my mum's fruit and veg garden and beautiful view of the sand martins swooping and nesting in the riverbank opposite. The caravan in the garden which my mum and dad bought when they gave up their bedroom to Nanna with her failing health. Afterwards, it became a precious den for Tim and me, then other friends. I learnt to type on an ancient typewriter in there, while listening to crackly tunes on the radio: 'The Long and Winding Road' still takes me right back there.
We were poor and looking back now, I'm sure mum and dad had to scrimp and save just to keep a roof over our heads. But I never EVER felt poor. I had the RICHEST upbringing and the best playmate in Tim… our secret agent team, BIUI (Bureau for the Investigation of Unusual Incidents) predated Mulder and Skully by several decades, and the secret entrance to our headquarters was accessed by flushing the old outside toilet before JK Rowling ever put pen to paper about how to get into the Ministry of Magic on the quiet!
I passed my 11 plus and went to Urmston Grammar, forging a lifelong friendship with Diane (Haithwaite) in the process. Unlike a lot of people, I rather enjoyed much of secondary school, especially creative writing and languages. I'd inherited my Dad's love of dark fiction and loved the comic 'Misty', which for a short time in the 80s, managed to buck the trend of Tammy and Jackie and other more girly stuff. I would write imaginative horror and science fiction stories for school and for fun. I also enjoyed Art, wanted to take it for O Level but ended up having to pick a science instead to balance the language options I'd chosen. All the right things come in time though…
I started going out with Pete in 1981.
I'd had the odd boyfriend (some odder than others!)… there was just a big mixed gang of us that just seemed to slip organically into a relationship every now and then. Not as swinging as it sounds… it was all a lot more innocent than nowadays! So it was a shock when 'proper' dating started when Pete, this 19-year old MAN, suddenly asked out 16-year old me. I was far too young for him but we had a good year and a bit of trying each other out for size before we thought it was time to end it. We always stayed friends though, for which I have been grateful to my dying day.
Studying languages at school led me on to Bangor University's Linguistics Department in 1982. I had a whale of a time at Uni, sometimes even without the aid of alcohol and certain –ahem- herbal substances. I scraped third class honours (an utter miracle seeing as I rarely made it to lectures and seminars)… probably what got me a result at all was my dissertation on the 'Language of the Elves in Tolkien's Middle Earth'. Who knows? More importantly, I made some good friends whom I've loved catching up with again in recent years.
After Uni, it took me less than a year to get back together with Pete. Going away and growing up a bit did me good and I knew I was returning to something special. I found out afterwards that a mutual friend - who shall remain nameless to spare their blushes - actually made the comment once that Pete's main interim girlfriend was actually far too nice for him compared to me. Still makes me chuckle years later. Anyway, jokes aside, we were soon engaged and saving for a house.
My degree results did me no favours in the job market until my first boss Roger Reade decided to take a chance on me. He was running Football in the Community, funded by national football bodies including the PFA, as part of a government youth opportunity programme aiming to build better bridges between professional football clubs and their local communities. So in my first ever job, I ended up working in the admin office of Manchester United's Community Scheme with Brian Kidd. I was absolutely terrified, having never even had a phone at home, but put my best foot forward. Roger was so supportive and managed to point me to a job at Manchester City when my year's contract ended. A data entry clerk for the their new membership scheme. On the only computer in the stadium at the time… it also had to run the scoreboard software. High spec. Not.
I worked hard at City over the next nine years, eventually taking over payroll and shares administration from the accountant, making lots of friends on the way. In 1995 I took a woefully short maternity leave to have Adam and then returned to a new position in the commercial department. Unfortunately, this quickly turned from an admin to sales role which really didn't suit me, so when the chance came to rejoin Roger at Football in the Community, I jumped at it. The office in central Manchester was also less of a commute from our then home in Oldham so I could spend a bit more time with Adam, something that I'm sad to say hadn't been financially possible before then. So there I was for the next six years or so , dealing with payroll for Community staff up and down the country. I loved it, working with a great bunch of colleagues, all the banter with officers on the phone, being able to help with the technical financial stuff while these chaps on the ground got on with what they're good at: inspiring others through football. I may not be the sportiest person in the world (just ask my old school PE teacher, if she's still alive and remembers my name isn't actually Sarah), but I recognise the power of sport as a positive force in the world. I guess this is partly what got me picked up by my last boss, PFA Chief Exec Gordon Taylor, while Football in the Community was closing down, as well as a good word or two from Roger!
I started work at the PFA's Education department with Pat Lally and was there for a couple of years before being hit with the bombshell that I had stage 3 breast cancer. Right from that moment, every single one of my workmates, old friends and newer, were amazingly supportive and continued to be though all my treatments over the last 14 years, through the stage 4 prognosis and the extra surprise bonus of a secondary brain tumour. Some of the horror stories that I've heard about how people battling cancer have been treated by their workplace makes me realise how truly lucky I've been to end up at the PFA with such a fantastic bunch of people. Not least Gordon at the helm. He'll be a bloody hard act to follow.
Bizarrely because of my cancer, the last few years have also seen me, thanks to the support and encouragement of Pat Mountford in the Christie Art Room, become an artist. I'd always enjoyed creative hobbies but never dreamed that one day I'd have people wanting to buy my paintings. The whole process of creating has been my breathing space and my safe place, especially during the periods of ongoing gruelling treatment when my job had to take a back seat. In the end, it makes me smile to know I have artwork out there keeping me a part of the physical world for people to keep engaging with.
Last but not least. Looking death in the face makes you realise what the most important things are in life.
My love for Pete, my well-named 'rock' and my soulmate through thick and thin. We've driven each other up the wall more than once and I'm sure taken each other for granted at times, but we were MEANT TO BE.
The blessing of our son Adam: kind, funny and way way smarter than he thinks he is.
Laughs and good times and happy memories of family and friends.
Taking each day as it comes and appreciating the simple things.
Letting go of daft annoying stuff that doesn't really matter in the grand scheme.
As my grandfather used to say: "You die if you worry. You die if you don't. So why worry?"