Ex-England winger Dave Thomas has battled to remain independent against the onset of glaucoma. Now he's the first ex-player to be given a guide dog, a moment that has changed his life profoundly.
Do you still get to games now your sight has deteriorated?
Not very often. I do try to but it's difficult for me now – I can see a little bit but my peripheral vision is completely gone. I am limited but I do go. I am very positive, I get on with life. My dog made a tremendous difference to me when I got her. I've been to Middlesbrough and my old club QPR with her and Man City to watch them play Cardiff. I wouldn't go in the crowd with her, I have to have accommodation like a box. I am lucky people do that for me.
Tell us more about your guide dog…
She's called Hannah. She is a Golden Labrador – she is fab, really amazing. I've had her two and a half years and she has changed my life. She gives me such confidence. I realised I had a problem when I was in crowded areas and there were lots of people around. When you get close to people and you have sight problems you feel you are going to walk into them. It's the most awful feeling. Since getting a dog all my fear is gone. People see the dog coming and these dogs are so clever.
How did you get glaucoma?
It's hereditary. I got it from my father, he had the same condition. Before he died, in the last couple of years of his life, he was completely blind. That could happen to me. Touch wood, my brother hasn't got it because if he had it he'd be absolutely snookered. He needs his car for work. When you lose your licence it is awful, life changing.
How old were you when you were properly diagnosed?
I found out at 50 that I had glaucoma. But I had probably had it for years. When we all get older you really notice things changing – and especially your eyes. When I felt I needed a pair of glasses that's when the optician picked it up.
Was there a hint of it during your playing days?
Now I come I think to of it I had so many bad games… no, I'm only joking! I'm led to believe that now when they do medicals there are people, going back to Wenger who look closely at peripheral vision and can do that with technology.
So they might have picked it up in the modern era?
If I was playing now and got transferred at 30 they may have picked it up. But with glaucoma you don't know it's creeping up on you. It happened to me and I was shocked when I was tested and I saw my field of vision. That was another life-changing moment.
You went into teaching after football – did your sight problems affect you?
I was only part-time but I loved my job. As a PE teacher you had to drive the minibus and take the kids to matches. I lost my licence when I was teaching because of my vision. It was embarrassing really. I had lovely bosses at the school who said I didn't have to worry about it. When we had an away match I'd ring up the opposition and they would always come to me – they were brilliant.
Maybe they'd seen you play. What kind of player were you?
I was classed as an out-and-out winger. You don't see them now. With wingers you have to be a great crosser of the ball. The game has changed and the front players rotate. When I played, the system never changed. When I was at QPR it was 4-3-3 week-in, week-out. I always started on the left and I would move to the right if I didn't have much success. But it's amazing now – you watch Man City and it's an education.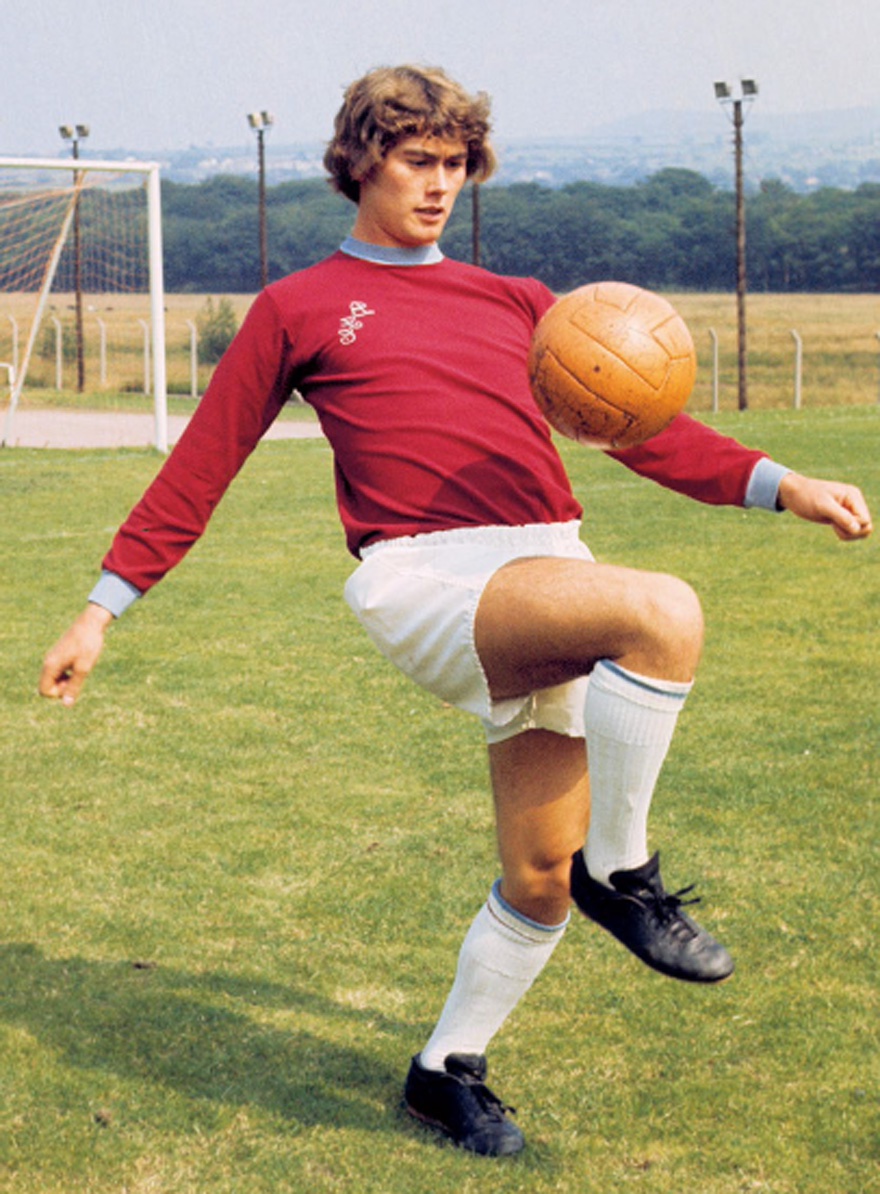 Looking back to your playing days do you have any regrets?
I could have gone to Leeds United. I might have done when Don Revie offered me £30 a week instead of the £4 Burnley offered. But my dad had given his word I'd join Burnley so we turned down Leeds. If I'd gone who's to say I'd have got a regular place? I was 16 when I got my debut for Burnley, the following year I was playing regular football. That might not have happened at Leeds. At the end of the day it's no use having the money – it's all about playing. Looking back on my life I haven't done too badly.
And Don Revie didn't hold a grudge because he picked you for England…
It's everyone's dream to play for their country. You start off as an apprentice, stay injury free, get into the first team and have the drive to play at the top. I was very lucky to do that, I had a great career. There were some big names in the dressing room when I made my England debut – Kevin Keegan, Trevor Brooking, Mick Channon. I was quite nervous. There were more cliques in those days. The way Southgate has come in – I have total admiration for that guy. He has the England lads staying out of those cliques.
Your QPR side were pipped to the title by Liverpool in the 1975/76 season – does it still hurt?
We had to win our last game against Leeds, which we did. Then we went on tour and played Maccabi Tel Aviv while Liverpool had a week's rest before facing Wolves in their last game. My friend scored first for Wolves but then Liverpool battered them. We lost the league by one point. It wouldn't happen today – we'd have kicked off at the same time!
Since your struggles with your sight you've been raising money for guide dogs…
Yes, I know what a difference my dog has made to me and I know what a difference these animals make to so many people's lives – I just can't explain it. One QPR supporter donated £10,000. I just feel I want to give something back.
You've written a book as well, has that been an emotional experience?
Yes. I do get emotional about it. And particularly thinking about when I got my dog, because I am limited and having her has changed my life.
I can hear it in your voice that this is extremely moving and important to you…
Yes. And I've really enjoyed doing the book. I want to get the word out there. I'm so pleased with it. If you'd said to me a few years ago that I'd have a guide dog I wouldn't have believed you. I'm a very emotional guy. When I see my dog… I love her to bits. But regarding my football, I really enjoyed my career – lots of highs. There is no better job in the world.
Football In His Genes
The incredible tale of Dave's Grandad who led a pit village team to foobtall's summit.
You might not have heard the story of West Auckland FC. You might not even have heard of the County Durham minnows at all. But in 1909 the club, captained by Dave Thomas' granddad David Thomas, sat atop world football.
The tale is scarcely believable, though it was the subject of a 1982 film called A Captain's Tale. But 110 years ago a prototype World Cup saw tiny West Auckland invited to Italy to face top sides from the continent. Astonishingly, the English pit village side won and were crowned champions of the world. They beat Juventus 6-1 two years later to win the trophy again.
As Dave retells it, the team didn't even have the money to get home. "A pub landlord from Stanley offered to get the players home in return for the cup, which was displayed in her pub for years." Dave's granddad was a huge influence on his life. "He was the one who really taught me to play football. He took me to the back field and we kicked a football all the time. He was a lovely granddad."
Telling His Story
A book recounting Dave's life, full of colourful anecdotes and revelations from his playing days, has just been published.
Guiding Me Home & Away proves to be a moving story chronicling the tears and triumphs in Dave's amazing life story and football career. From the moment his dad turned down a moneybags offer from Don Revie for a young Dave to join mighty Leeds United, to his England pride – it's all in there.
All the proceeds made by Dave will be donated to the Guide Dogs for the Blind charity, a cause very close to his heart. Dave has already raised an estimated £75,000 to help train dogs and give other people the help he is so thankful for.
"I've been asked a couple of times to do an autobiography," says Dave. "You associate an autobiography with a big name. But then I heard David Roberts at Hornet Books had been doing commentary for blind supporters. I know how much that means to people, so when I was asked this time I said 'I'll do it'."
The book, produced with financial support from the PFA, is available in hardback and kindle and large print, braille and audio editions are being prepared. For further details contact info@hornetbooks.com.