ALS finally conquered his body, but not his spirit: A tribute to Andy Rowland (1965-2017)
This summer I travelled to Alkmaar, located in the province of North Holland, on two occasions in relatively short succession. The first time was in May. I wish I could have been excited about the prospect of visiting my very good friend Andy Rowland, who I hadn't seen for over 18 months, but I wasn't. The second time was in July. On this occasion, it was to attend a ceremony to celebrate his life.
Andy and I, like most young men, met through football at school. Although two years younger, he often played in the older teams as he was a 'natural' goal scorer. After leaving school, Andy attended Stafford University and played football semi-professionally before finally signing a professional contract in 1989 with Southampton. Unfortunately, Andy's career at Southampton was cut short by a change of manager and despite a move to his home town club Torquay United, where he featured in the 1991 play-off final win at Wembley, he never went on to realise his full potential.
Many of the attributes which earned him a professional football contract served him well. Andy and his Dutch wife Marion set up home in Alkmaar later in the '90s. In the early days, he worked as a postman but soon became interested in international banking. He joined ING, the Dutch bank, and spent most of his career in Counterparty Risk Management. Andy was one of the individuals who were key to building and professionalising the Global Collateral Management organisation of ING and his contribution towards this initiative was very substantial. He was a tenacious and professional negotiator, with a super grasp of underlying content and with enormous drive and sense of responsibility.
In the banking crisis of 2008 and 2009, ING fully reaped the rewards of Andy's very good work and perseverance in agreeing robust and strong collateral terms. In 2009, Andy accepted a position with ABN Amro where he became the Head of a Legal team. Andy was a dedicated and highly-respected banking professional and from the tributes expressed by his former ING and ABN colleagues during his funeral service, it became clear that they lost an extraordinary colleague and great friend.
It wasn't long after Andy's time at ABN that I was informed of his devastating illness. The first I knew of it was via an email in September 2015. After wishing me a happy birthday, which he rarely missed, came the bad news. Andy had been diagnosed with the motor neuron disease, amyotrophic lateral sclerosis (ALS).
He knew that something wasn't quite right with his body when he felt that his grip strength when playing golf had weakened. It took several initial visits to doctors and later to specialist neurological experts before the final diagnosis was reached. The time span from living a normal healthy life to needing first crutches to walk and then confined to a wheelchair was less than a year.
"As you can imagine our lives are upside down at the moment trying to comprehend this," he wrote. In his next sentence, however, the focus had already shifted to possibilities that only Andy, the positive man that he was, could think of.
"Making a trip to watch Leicester City play and watching Sweden at the Euros in France must be on the bucket list," Andy continued. One of which was to watch a Leicester game at King Power Stadium and another was to watch a Sweden game at the 2016 European Championships in France.
Andy and his son Jaimy came to King Power Stadium on November 28, 2015 to watch Leicester City vs. Manchester United. They would go on to witness footballing history, as the game was made famous worldwide by Jamie Vardy, who broke the Premier League record for scoring in 11 consecutive games.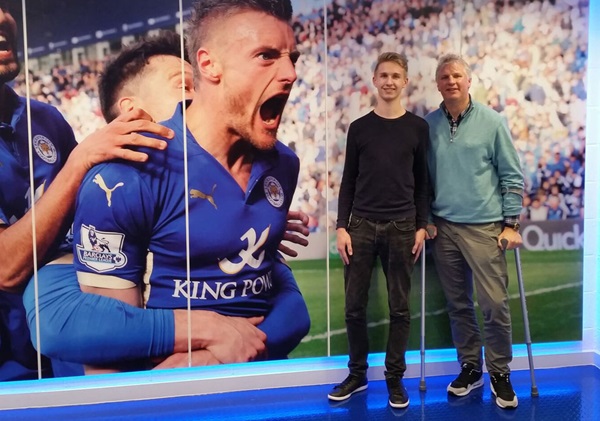 With one game off the bucket list, in June 2016, Andy and his son travelled from Alkmaar to Paris to watch Sweden draw 1-1 with Ireland in the opening round of the European Championships. By this time, Andy was confined to a wheelchair, but that did not stop him from sharing an unforgettable experience with Jaimy.
In truth, there are no words to describe Andy's positivity and resilience during his illness. Football being a common passion of ours dominated most discussions or social media chats. He occasionally moaned about the quality of a game or player, but he never moaned about his health. The last time we met in May, we spoke football for five hours non-stop. His speech was weak and faltering, yet his passion for football and his stubborn determination made this possible. Football is so important in so many ways for so many people and for Andy it was his escape from reality.
I would not get the opportunity to be in his presence again until his funeral in Alkmaar. It did not have a sombre mood like most funerals do, though. It was a sincere tribute to his life. The church was full of people from near and far. His character was portrayed in the most commendable and beautiful way by his brother and sister, friends and former professional colleagues. We got to see a timeline of his life via a photo slideshow and we listened to songs that meant so much to him for different reasons. On the way to the church, he was allowed to visit AZ Alkmaar's stadium one last time. The famous words of Bill Shankly describing football as more important than life or death echoed all around.
Of course, battling against this dreadful disease came at a cost to his family, who were extremely grateful for the financial support that they received from the Professional Footballers' Association (PFA). That will become especially important for Andy's family now that he is no longer around to support them, as he so often did.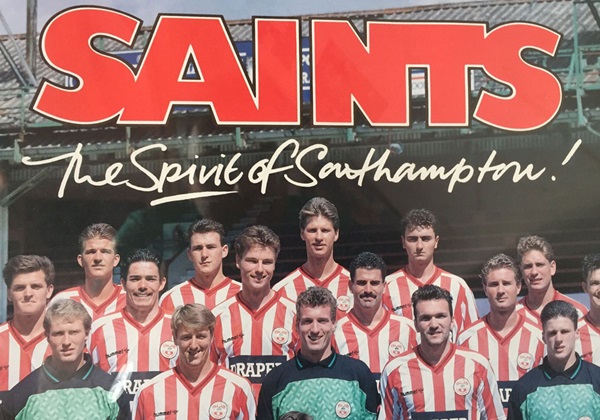 Previous financial help for ALS sufferers has come in the form of the Ice Bucket Challenge, which went viral across social media in the summer of 2014 to increase awareness. Tens of millions of pounds were raised in a single month as buckets of ice and water were poured over people's heads to solicit donations made for motor neuron disease research, which has since proved to be hugely important.
Recently, a new gene (NEK1) associated with the disease has been hailed as significant despite this gene only being present in around three per cent of all ALS sufferers. The hope is that as our fundamental knowledge about the brain and nervous system increase through research this knowledge can be used to better understand and manage the manifestation of neurological disease.
Research to understand ALS is vital and Andy's former club Southampton are kindly having a collection for motor neurone disease sufferers as a tribute to his life. In addition, there is also a Justgiving page set up for those wishing to pledge funds to the cause.
The harsh reality is that there is no cure for ALS. The disease is caused by the death of motor nerves, the nerves that connect the brain and muscles to prompt movement.
It is progressive, meaning the symptoms get worse over time. Currently, the National Institute of Neurological Disorders and Stroke (NINDS) states that there is no cure and no effective treatment to halt, or reverse, the progression of the disease.
But in Andy's case, while all hope seemed lost, he lived his life to the full. He still managed to care for his family and follow the sports he loved, including football of course, with a fierce passion. Yes, ALS finally conquered his body, but it did not conquer his unfaltering spirit and determination.
He would not have had it any other way.
Any donation, small or large, goes a long way in helping fund important research into ALS. To do so, head to [WEBSITE LINK].