The Business Of Football
Developed by the Sports Business Institute (SBI), the Football Marketing and Management Online Course is a unique programme exploring the business side of football.

This taster course focuses on sports marketing, sponsorship, athlete representation, event management and digital marketing across eight weeks of online content and weekly live webinars led by industry professionals.

The SBI's interactive learning platform makes this a flexible reintroduction into education for both current and former professional footballers. The skills, knowledge and networking opportunities you'll gain during the course will give you a strong foundation to achieve your professional goals within the football industry.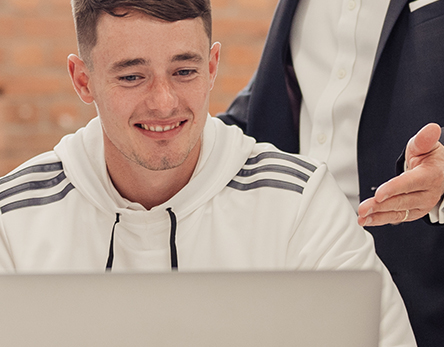 Course Logistics
Requirements
There are no formal entry requirements for this course, but ideally candidates should be interested in a future career in football business.
This taster course balances an academic approach to sports management with real-life working experiences in the industry. It will provide you with a unique learning experience to kick-start your football business career.
---
Duration
This course consists of eight weekly live web conferences plus independent study, and takes just two months to complete.
---
Qualification/Outcomes
Upon completion of this course, you will receive a certificate in Football Marketing and Management.
SBI certifications are highly regarded in the football sector. Once you've completed this course, you will become part of the SBI Alumni Association, granting you access to a wide range of career and networking opportunities with our partnering institutions worldwide.
---
Course Content
The course syllabus is divided into eight, easy-to-follow modules to help build your knowledge of the football business.
These modules build your understanding of the impact that brand equity, agency, events, revenue streams and digital media have on a successful football industry.
Each week, you'll work through a different aspect of football business:
Week 1 – Introduction to football marketing and the business of sport
Week 2 – Exploring business development at top European clubs
Week 3 – Identifying what makes successful sponsorship partnerships
Week 4 – Understanding athlete representation in football
Week 5 – Studying footballers' roles as commercial brand ambassadors
Week 6 – Navigating ambush marketing
Week 7 – How to manage major international football competitions
Week 8 – Learning how clubs build digital consumer engagement
FAQ'S
What is the Sports Business Institute (SBI)?
The SBI is one of the few specialised academies in the world that focuses specifically on the football industry. Based in Barcelona, the Institute uses their interactive online platform to deliver courses that prepare students for leadership roles in football.