English football clubs have shown their solidarity with Ukraine following their invasion by Russia this week, with players, club staff, and fans coming together to offer their ongoing support.
During yesterday's Caraboa Cup final at Wembley, Liverpool fans sang their infamous club anthem 'You'll Never Walk Alone' during a minutes applause whilst the Ukranian flag was displayed on screens across the ground with the message 'Football Stands Together'. Both Liverpool and Chelsea fans brought their own messages of support, arriving to the ground equipped with Ukranian flags and banners. In show of their support, both Chelsea and Liverpool players took a picture before kick-off, as the captains placed a wreath with the Ukrainian colours in front of them.
West Ham and Wolves also put on displays of solidarity with Ukraine. Ukrainian international Andriy Yarmolenko had been given compassionate leave by the Hammers and was not a part of Sunday's squad. To show their support for their teammate and his country, West Ham players warmed up in tops with Yarmolenko's name on the back, while screens outside the ground had his picture, accompanied by the message: "Sending love and prayers to Andriy Yarmolenko and the people of Ukraine". As both teams made their way onto the pitch for kick-off, West Ham captain Declan Rice brought out a shirt bearing Yarmolenko's name, while Wolves showed their solidarity by wearing warm-up tops emblazoned with the words "No to war".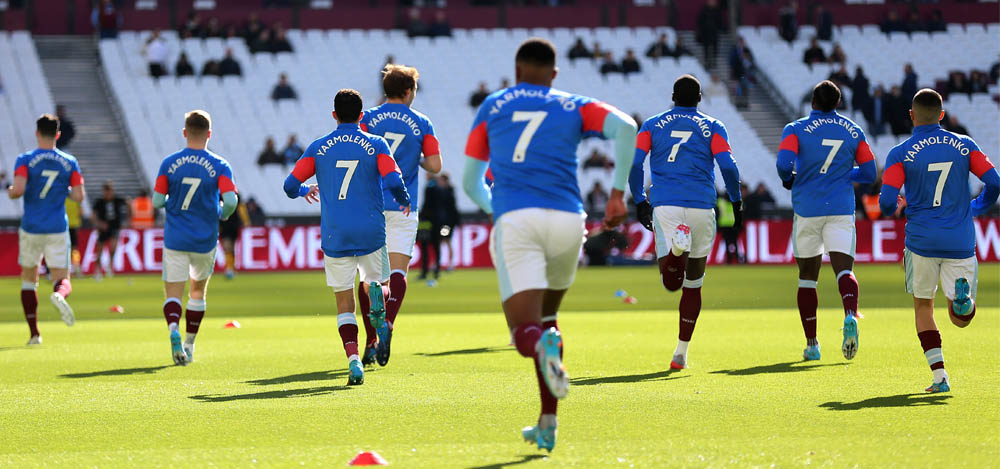 Elsewhere, fans witnessed a moving embrace by Ukraine internationals Oleksandr Zinchenko (Manchester City) and Vitaliy Mykolenko (Everton) on the half-way line at Goodison Park during their warm-up. Everton players came out of the tunnel draped in Ukrainian flags, whilst Manchester City players warmed up wearing T-shirts bearing Ukraine's blue and yellow colours and the statement, "No war."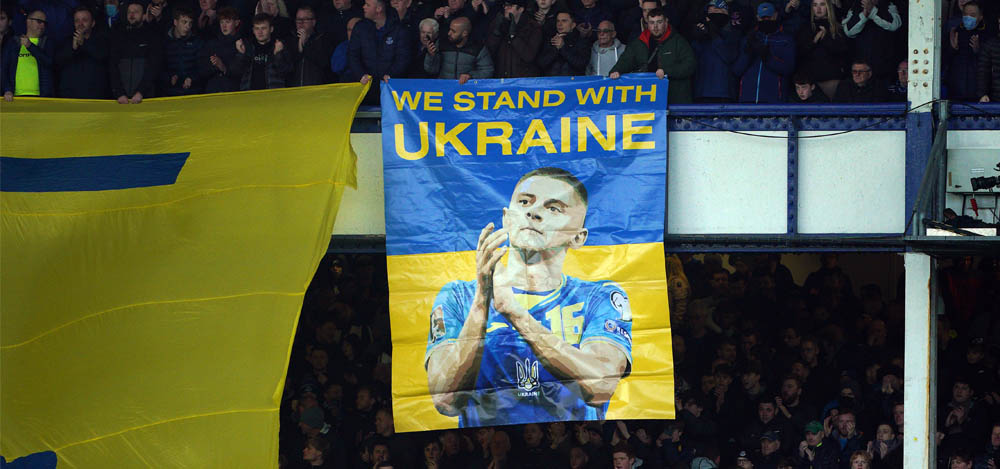 It was not only English clubs that showed their support for Ukraine during last weekends fixtures, as Benfica's Ukrainian forward Roman Yaremchuk was moved to tears during their league game against Vitoria, after receiving a standing ovation and the captain's armband when he came on as a substitute.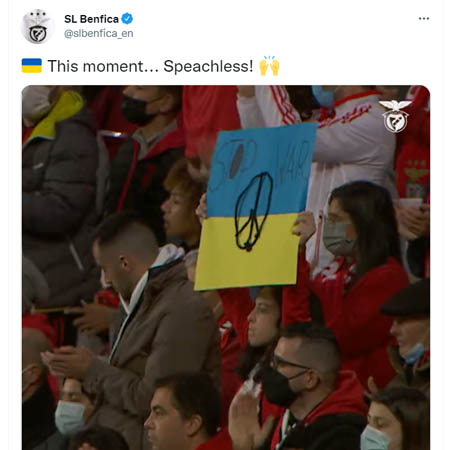 FIFA and UEFA announced new sanctions on Monday night, confirming that Russian football clubs and international sides have been suspended until further notice.